Destinations
Parks and Places for Everyone
Now Open
Symphony Square
1111 Red River St.
Urban history and the next generation of art, entertainment, and education converge in Symphony Square. Bordered by the calm waters of Waller Creek, a 350-seat open-air amphitheater and three newly renovated buildings form a special setting where community bonds form naturally. The complex is host to an astonishingly full calendar of free park events, festivals, and programs that you don't want to miss, as well as home to Waterloo Greenway Conservancy. It's also available for community and private event rentals.

Read about the history of Symphony Square
Opening 2021
Waterloo Park
Under Construction | Opens August 2021
12th St. to 15th St. along Red River St.
The revitalized 11-acre Waterloo Park will be both a central hub of activity and a catch-your-breath haven for every Austinite. More than 1.5 miles of tree-lined hike-and-bike trails will guide you through stunning Hill Country gardens filled with native plants and wildflowers and on to lush wetland terraces flourishing within a radiantly restored Waller Creek. You'll be able to stroll across an elevated skywalk, picnic by imaginative playscapes, or lie down and laugh awhile in the expansive Great Lawn that rolls up to the world-class Moody Amphitheater. The experiences in Waterloo Greenway's largest meetup point will be as limitless as your imagination.
Moody Amphitheater
Under Construction | Opens August 2021
1401 Trinity St.
You've never experienced an outdoor performing arts venue quite like this. Moody Amphitheater will be a permanent, architecturally stunning icon in downtown Austin — and an opportunity for 5,000 strangers at a time to become soul mates through a singular shared experience. Flowing seamlessly into the natural fabric of Waterloo Park, this creative space will be an open invitation for you to be inspired, enlightened, and astounded through music, dance, theater, and so much more.
Upcoming
Creek Delta
In Design | Construction Begins 2020
Cesar Chavez St. to Lady Bird Lake
At the Creek Delta, where the mouth of Waller Creek meets Lady Bird Lake, the creek is deeper and more ecologically diverse than anywhere else in the city. What better way for you to experience its abundant beauty than with a bird's-eye view? Three lightweight suspension bridges will drape across the newly resplendent delta landscape, creating stunning canopy walks with unrivaled vantage points. The bridges, designed to blend effortlessly into the natural environment, also create vital new east-west connections for hiking, biking, and exploring.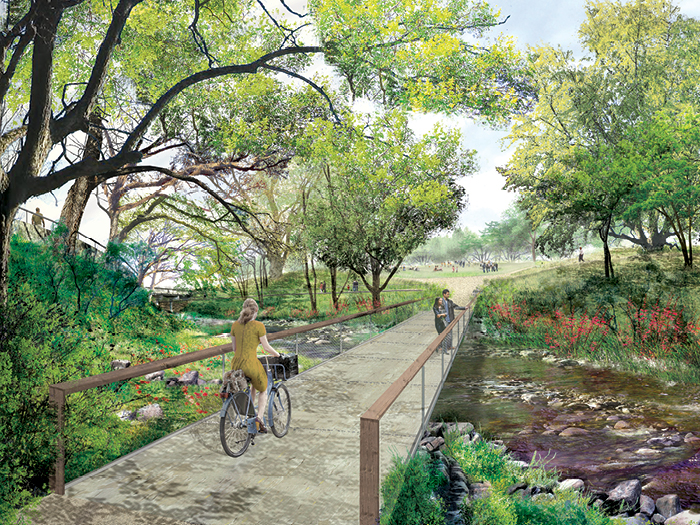 Palm Park
Predesign Planning | Opens 2024
2nd St. to 3rd St., between Sabine St. and I-35
A historically important area with strong connections to East Austin communities, Palm Park will be revitalized as a major Waterloo Greenway entrance point and an exuberant gathering place. A redesigned landscape will send children dashing back and forth between the rejuvenated banks of Waller Creek and nature-based playscapes, splash pads, and picnic and grilling areas. While already buzzing with beloved Waterloo Greenway events, including the Waller Creek Pop-Up Picnic, movie nights, and Sunday Funday, this essential destination will become even more engaging for families and children from all over Austin.

Read about the history of Palm School
The Refuge
Predesign Planning | Opens 2026
7th St. to 9th St.
A completely new creek-level exploration zone, The Refuge will connect all members of our community – especially children – to meaningful experiences in water and nature. Year-round activities and programming will encourage hands-on discoveries and get-your-feet-wet adventures that create a new wave of Waterloo Greenway ambassadors. The Refuge will also be a major trail connection that easily brings you in from 7th St. and the Red River Cultural District.
Pontoon Bridge
Predesign Planning | Opens 2026
Across Lady Bird Lake
Laid gently between the north shore and south shore of Lady Bird Lake, a floating pontoon bridge will serve as a vital link between Waterloo Greenway and South Austin. Connecting to the Ann and Roy Butler Hike-and-Bike Trail and extending it to new neighborhoods, this unique lake crossing and boardwalk opens up an entirely new set of possibilities for journeying away from busy streets and into Austin's natural beauty.