Under Construction
4th St. to Lady Bird Lake
Waterloo Greenway is a 1.5-mile park system with the power to bring the entire Austin community together. Once complete, the project will include 35 acres of connected green space made possible through a significant public-private partnership with the City of Austin. The opening of Waterloo Park and Moody Amphitheater in 2021 marked the first phase of Waterloo Greenway. Construction on Phase II: The Confluence begins this spring, representing the next step toward completing the park system.

At The Confluence, where the mouth of Waller Creek meets Lady Bird Lake, the creek is deeper and more ecologically diverse than anywhere else in the city. What better way for you to experience its abundant beauty than with a bird's eye view? Three lightweight suspension bridges will drape across the newly restored delta landscape, creating stunning canopy walks with unrivaled vantage points, and vital new east-west connections. A stand of new bald cypress trees will create a sustainable habitat, welcoming visitors to a new creek-level trail and elevated boardwalk.

Significant environmental restoration at The Confluence will recreate a thriving ecosystem, with a resilient landscape to clean and manage stormwater runoff, in partnership with the Watershed Protection and Parks and Recreation Departments. Eroded, fallen creek banks showing the effects of historic flood events will be reconstructed – building upon the Waller Creek Flood Control Tunnel's capacity for flood mitigation.

A lush new landscape of nearly 1,550 trees, 200,000 mature plants, and 10 acres of seed mixes will improve downtown air quality, improve ecosystem functions, reduce greenhouse gas emissions, and reduce the urban heat island effect. Park-goers will experience a one-of-a-kind immersive experience within 13-acres, including the deepest and most ecologically diverse section of Waller Creek.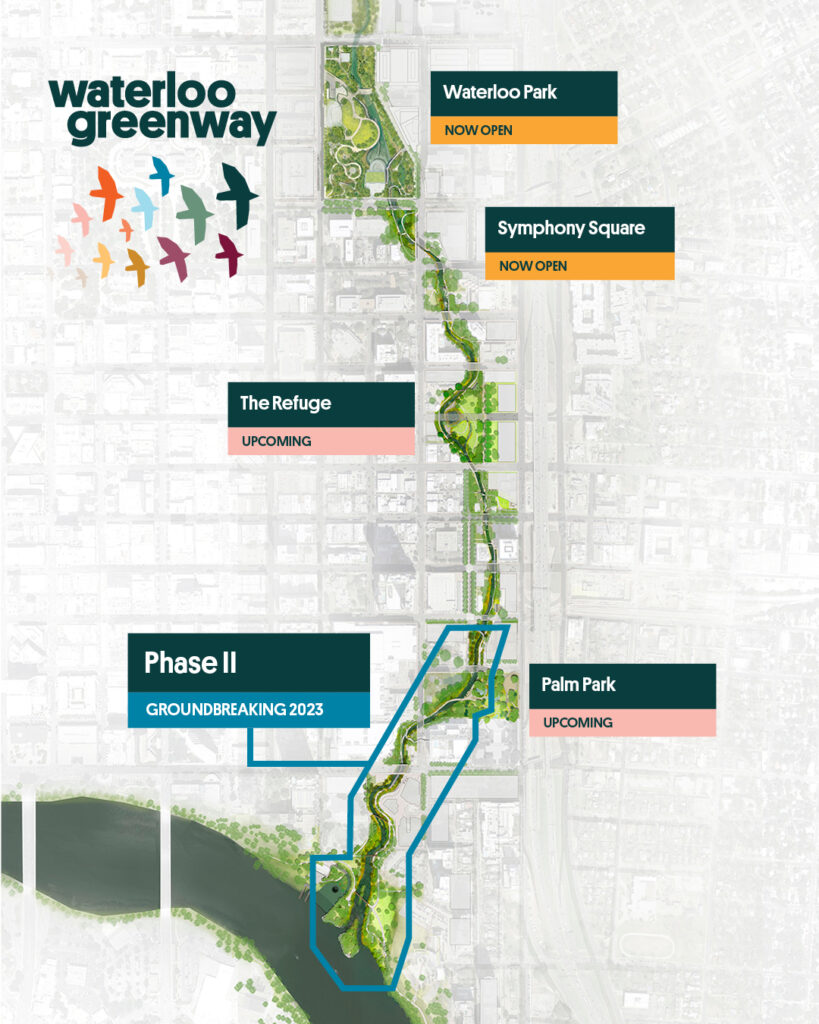 Located at the southernmost point of Waterloo Greenway, The Confluence sits at the cultural epicenter of Palm Park, Rainey Street Historic District, Emma S. Barrientos Mexican American Cultural Center, Convention Center, and Ann and Roy Butler Hike & Bike Trail.

Lead support to-date for Phase II of Waterloo Greenway construction is provided by Buena Vista Foundation, Carmel and Tom Borders, Colin Corgan, Fondren Foundation, The Hartman Family, Love, Tito's, Sugar Creek Foundation, Tejemos Foundation, and Waller Creek Owner LLC.
"We are thrilled to announce the selection of our construction partner, Jay‐Reese Contractors, who will help us bring the next phase of Waterloo Greenway to life and build upon their legacy of authentically-Austin projects. The Confluence is an incredible example of how we can celebrate and preserve our green spaces in the middle of one of the busiest and most rapidly growing areas of downtown Austin. This next phase is centered around nature and helping connect our community to many amazing historic and cultural downtown destinations."

Jesús Aguirre, Waterloo Greenway CEO
Meet the Contractor
On Jan. 18, 2023, the City of Austin authorized an award and execution of a construction contract for The Confluence with Jay‐Reese Contractors, Inc. Jay-Reese Contractors have worked on many notable Austin projects including the Pfluger Bridge, Boardwalk Trail at Lady Bird Lake, and 2nd Street Bridge.
Questions?
Watch the Meet the Contractor webinar now to learn more about Phase II: The Confluence and meet our contractor team!
If you have other questions about the project, please reach out to Project Manager, Joel Lewis at Joel.Lewis@austintexas.gov or 512-974-7730.
Get Involved
Sign up for updates from Waterloo Greenway to keep up with construction progress and information on how you can get involved with the project.
The Vision
The Latest Progress
You may notice the contractor clearing some vegetation for access, concentrating on removing invasive plants first. Please keep in mind that the project will include extensive plantings of native vegetation and trees. The project will improve both the water quality in Waller Creek and wildlife habitat.
---
Working with the City of Austin
Waterloo Greenway is working in partnership with the City of Austin's Watershed Protection and Park and Recreation Departments. For more information on the Waller Creek District and Tunnel, visit the City of Austin's website.
Press
Waterloo Greenway in the News