Overview
Waterloo Greenway: For the Benefit of All
Waterloo Greenway is a 1.5-mile park system with the power to bring the entire Austin community together. Once complete, the 35 acres of connected green space – meandering from 15th St. along downtown's eastern edge to Lady Bird Lake – will be home to a wild array of natural and cultural destinations. Amid epic gardens and rolling pathways, and a twinkling Waller Creek that links them, the environment, arts, health, and adventure will converge — and nourish authentic and uplifting experiences that reflect our city's diversity.
A significant public-private partnership between the City of Austin and, us, the Waterloo Greenway Conservancy, this park of all parks is being planned, designed, and built in a series of geographic milestones. Meeting each one by our completion within the next 10 years is ambitious and requires support from the entire community. There's much work yet to be done, but we're well on our way: Symphony Square, Waterloo Park, and Moody Amphitheater are now open! Phase II started construction in May 2023.
Waterloo Greenway is a 1.5-mile urban ecosystem with the power to bring the entire Austin community together.
---
Phasing
Design Team: Michael Van Valkenburgh Associates, Inc. and Thomas Phifer and Partners
City of Austin Sponsoring Departments:
Austin Parks and Recreation and Watershed Protection
---
Phase 1
Waterloo Park and Moody Amphitheater
12th St. to 15th St. along Red River St.
Size: 11 acres
Progress: Now Open
Symphony Square
11th St. to 12th St. along Red River St.
Progress: Now Open
---
Phase 2
The Confluence
Lady Bird Lake to 4th St.

Size: 9 acres
Progress: Construction began May 2023
Target Completion Date: 2025-2026
---
Phase 3
Palm Park and The Refuge
3rd St. to 11th St.,

Size: 15 acres
Progress: Outreach summer & fall 2023
---
Funding
Waterloo Greenway is funded by a combination of public and private funds. The total estimated project cost is $265M. The City of Austin has committed approximately $150M through bond funding, the Waller Creek Tax Increase Reinvestment Zone, and other sources. The conservancy will raise the remaining $100M from individual, foundation, and corporate contributions, grants, and more.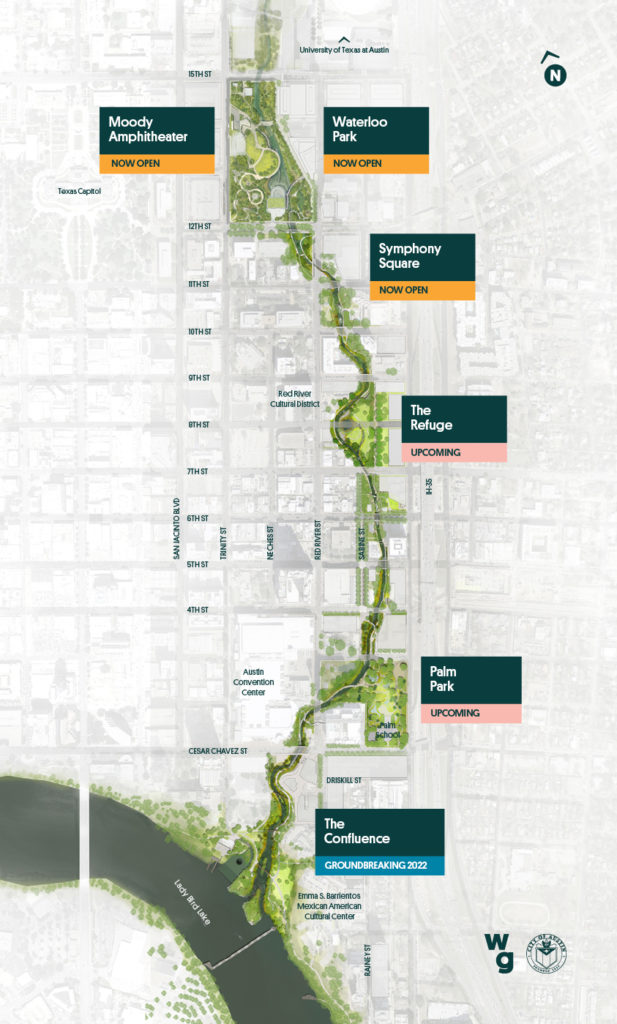 Capital Campaign Donors
These generous donors make the planning, design, and construction of Waterloo Greenway possible. Thank you!
$100K-$15MM
---
$15,000,000
Moody Foundation
---
$10,000,000
C3 Presents & Live Nation
---
$3,000,000
Mattsson-McHale Foundation
---
$2,000,000 +
Susan & Gary Farmer
The Manchester Family
The Meredith Family
PNC Bank
Kitty King Powell
Adria & Brian Sheth
Still Water Foundation
Tejemos Foundation
Transwestern
$1,000,000 +
Charles Attal & Amy Corbin
Suzanne Deal Booth
Colin Corgan
Rosemary & Russell Douglass
The Fondren Foundation
The Hartman Family
Brenda & Jonny Jones
The Lebermann Foundation
Love, Tito's
Sugar Creek Foundation
Melba & Ted Whatley
Winkler Family Foundation
---
$500,000 +
Downtown Austin Alliance
Luci Baines Johnson & Ian Turpin Family
Jeanne & Michael Klein
Texas Parks & Wildlife Department
---
$250,000 +
Janet & Wilson Allen
Buena Vista Foundation
Paula & Kevin Burns
Marian & Chris Casey
Deb & Rex Gore
Stacy & Joel Hock
Carolyn & Jack Long
Meinig Family Foundation
Wells Fargo
$100,000 +
Alice Kleberg Reynolds Foundation
Melanie Barnes
Carol & Charles Barnett
Laura & Kyndel Bennett
The Laura & Steve Beuerlein Family
Carmel & Tom Borders
The Brown Foundation, Inc.
Maya Browne & Laurence Pels
The Cline Family
Paul J. D'Arcy
Eloise & John Paul DeJoria
The EGF Charitable Fund
Endeavor Real Estate Group
Lea Ann & Steve Fowler
Caroline & Brian Haley
Heritage Title Company of Austin, Inc.
HPI Real Estate Services & Investments
Carolyn Lewis
Jeanne & Lew Little, Jr.
Sheridan & Perry Lorenz
Lorena & Eddie Margain
Lauren & Tom Moorman
The Powell Foundation
Pam & Michael Reese
Reid Collins & Tsai LLP
RGK Foundation
Edie Rogat & Cotter Cunningham
Elizabeth & Rob Rogers
Magdalena M. Rood & Leslie M. Moore
Eddie Safady
Frank D. Schubert & Greg Fedro
Shield-Ayres Foundation
Irene & Alexander Shoghi
Meghan & Chris Slover
Spong-Blakeslee Family
Susan Vaughan Foundation
SXSW
Hannah Temple & Christopher Sanders
Tom Terkel
Texas Gas Service
Colleen & Frank Trabold
Helen & Sandy Watkins
Sandra & Walter Wilkie
$25K-$99,999
---
$50,000 +
3M Foundation
The Applied Materials Foundation
AT&T
Austin Community Foundation
Austin Parks Foundation
The Avey Family
Marie Crane
Danna & Crutch Crutchfield
dwg.
Sue Edwards & David Bodenman
Jamie & Jeff Foster
Frost Bank
Gallogly Family Foundation
Quen & Jesús Garza
Lisa & Sandy Gottesman
Deborah Green & Clayton Aynesworth
Marian P. Harrison
Highland Resources, Inc.
Dinah & Tim LaFrey
Ben Lamm
Douglas W. Manchester
Susan & Richard Marcus
The Meadows Foundation
Melanie & Peter Mullan
Pat Munday
Evie & Cash Nickerson
Notley
Nancy & Mark Pollard
The Joe Ross Family
Betsy & Paul Shiverick
Snacks Family Fund
St. David's Foundation
STG Design
T.L.L. Temple Foundation
Chad Taylor
The Wilson & Albright Families
Mary & Howard Yancy Family
Sarah & Jeff Zeigler
$25,000 +
Mayor Steve Adler & Diane Land
Alexan Waterloo
America Alva & Bryan Z. Rubio
Theresa & Raul Alvarez
Bank of America
Sinclair Black, FAIA
David Booth
Brown Advisory
CapMetro Cares
Casareno-Reibling Foundation
Jamie & Blake Chandlee
Amy & John Chronis
The Cynthia & George Mitchell Foundation
Deloitte
Cissie & Dillon Ferguson
Amanda Foster, Alexandra & Merritt Beck
Brian Grigsby
H-E-B
Tracey & David Hime
Geri & Matt Hooks
Kendra & Scott Irvine
Jackson Walker
Sarah & Stuart Kime
Laura & Kevin Larson
Kathleen & Christopher Loughlin
Marinelli Family
Moreland Properties
The Nazro & Friske Families
Deborah & Larry Peel
John Pesce
Maryellen & Patrick Quarles
Rambler Sparkling Water
Misty & Bill Reid
The Ricks Family
Patti & Michael Rogers Family
Sackman Enterprises
Phillip Sarofim
Nancy Wilson Scanlan
Martha E. Smiley
Paula & Ken Smith
The Stanich Naranjo Family
Gail & Rodney Susholtz
John Teinert & Chris Pellegrino
Margot & Grant Thomas
Amy & Jerry Webberman
Monica & Andrew Weinberg
Interested in making a gift to the capital campaign to bring Waterloo Greenway to life?
We have naming opportunities and other exciting support options. Email Evelyn Nazro at enazro@waterloogreenway.org for more information.