April 25, 2022 – Today, Waterloo Greenway Conservancy, the City of Austin, and U.S. Congressman Lloyd Doggett announced monumental support by the federal government to propel the next important phase of Waterloo Greenway's expansive park system project forward – The Confluence. Because of the recently approved Infrastructure Investment and Jobs Act, the U.S. Army Corps of Engineers is dedicating $9 million for the restoration of Waller Creek.

"We are thrilled by this endorsement to continue building Waterloo Greenway's 35-acre parks system," said Waterloo Greenway CEO Jesús Aguirre. "We've been humbled by the community's support of parks, particularly as we've seen our Austin friends and neighbors enjoy the newly-reopened and reimagined Waterloo Park over the past year. Now we're one step closer to realizing our vision with this incredible support by our federal partners."
"With City of Austin funding and generous private support, Waterloo Greenway is already contributing so much to our community. Now we have secured federal dollars to back up this local investment. This $9 million represents both the first benefit to Austin from the new Infrastructure law and the very first environmental infrastructure project to ever be approved in the State of Texas. More green space, cleaner water, economic development potential—another big plus for our quality of life in Austin. I salute Col. Stover and his team for working with the City and Waterloo Greenway to make this possible," said U.S. Congressman Lloyd Doggett.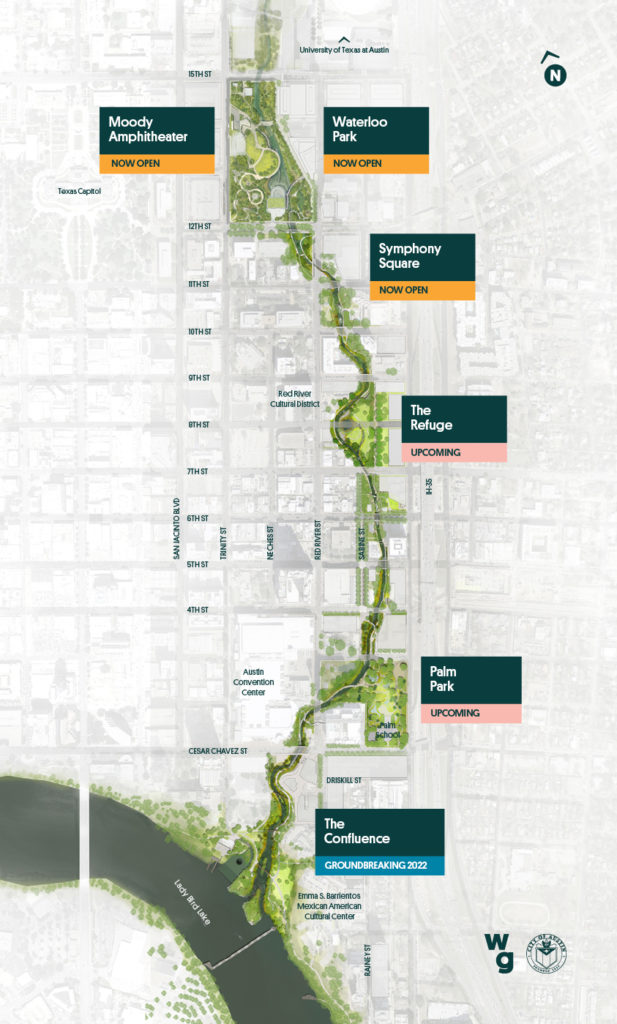 Col. Jonathan S. Stover, commander, Fort Worth District said, "The Fort Worth District, United States Army Corps of Engineers, is excited to participate as a partner in the Waterloo Greenway framework by implementing an Environmental Infrastructure project within the City of Austin's Waller Creek District."

Significant environmental restoration at The Confluence will recreate a thriving ecosystem, with a resilient landscape to clean and manage stormwater runoff, in partnership with the Watershed Protection and Parks and Recreation Departments, and is the first Environmental Infrastructure project in the state of Texas for the United States Army Corps of Engineers Fort Worth District.

Eroded, fallen creek banks showing the effects of historic flood events will be reconstructed – building upon the Waller Creek Flood Control Tunnel's capacity for flood mitigation.

"We are at the cusp of an environmental transformation in downtown Austin," said Watershed Protection Director Jorge Morales. "This level of reconstruction is unlike any project the City of Austin has been able to build in support of healthier downtown habitats and watersheds."

With support by the U.S. Army Corps of Engineers and this federal funding, a lush new landscape of nearly 1,550 trees, 200,000 mature plants, and 10 acres of seed mixes will improve downtown air quality, improve ecosystem functions, reduce greenhouse gas emissions, and reduce the urban heat island effect. Park-goers will experience a one-of-a-kind immersive experience within 13-acres, including the deepest and most ecologically diverse section of Waller Creek.

"We are a city that delivers on huge aspirations. Into our future, we will continue to need creative solutions to equity, mobility, quality of life and climate resiliency challenges," said Mayor Steve Adler. "The second phase of Waterloo Greenway embodies our vision, spirit, and values. In Waterloo Greenway, we celebrate an Austin that is smarter, greener, healthier, more creative, more connected, and more equitable."

The Confluence, located at the southernmost point of Waterloo Greenway, sits at the cultural epicenter of Palm Park, Rainey Street Historic District, Emma S. Barrientos Mexican American Cultural Center, Convention Center, and Ann and Roy Butler Hike & Bike Trail.

Construction begins this October at The Confluence, representing the next step toward completing the entire 1.5-mile park system that will connect 15th Street to Lady Bird Lake. The opening of Waterloo Park and Moody Amphitheater in 2021 marked the first phase of Waterloo Greenway.
Press Conference Highlights • April 25, 2022
Speakers
Lloyd Doggett, U.S. Congressman

Colonel Jonathan S. Stover, Commander, Fort Worth District U.S. Army Corps of Engineers
Steve Adler, City of Austin Mayor
Jesús Aguirre, Waterloo Greenway CEO
Jorge Morales, City of Austin Watershed Protection Dept. Director
Liana Berberidou-Kallivoka, City of Austin Parks and Recreation Dept.
News Coverage
Slideshow photos by Suzanne Cordeiro