We'd like to thank everyone who participated in our recent Palm Park Conversations and our generous partners at Wells Fargo for funding our community engagement series through their Community Grant program!
---
There's still time to share your feedback!
Take our online survey below and let us know what a vibrant Palm Park looks like to you.
All of the feedback and insights we receive are invaluable in shaping the future of Waterloo Greenway, including the historic Palm Park in downtown Austin.
---
On August 24 & 26, Waterloo Greenway hosted two public listening sessions about Sir Swante Palm Park in order to give the community a voice in the redevelopment. Austinites were welcomed to Juan in a Million for an afternoon of learning about the project, providing input on key features, and of course, tacos!
Our Community Engagement team partnered with Cortez Consulting to bring an interactive pinterest board project to the sessions, allowing guests to vote and comment on shade structures, playground equipment, splash pads, gathering spaces, history and storytelling opportunities, and miscellaneous dreams for the park. We are incredibly grateful for the diversity of insight we gained through this activity, giving us new perspectives on the features, ideas, and experiences Austinites really want to see. The valuable feedback gained from this activity will go on to inspire our design team as we work to build a Palm Park created both by and for Austinites.

Our lead architects at MVVA were also present at the sessions, bringing an interactive 3D model of our current Palm Park design plans. Participants were invited to ask questions and share their reactions to the layout, style, and overall vision of the future Palm Park. The model brought with it "puzzle piece" style features and designs, allowing visitors to play around with the layout themselves and envision a park they could see themselves in.

Thank you again to the Wells Fargo Community Grant program for giving Waterloo Greenway the resources to engage and inspire community-led design in Palm Park! And a very special Thank YOU to everyone who came out and participated in the sessions. It is through collaboration and engagement from individuals like you that enables us to create a wondrous 35-acre urban park system in partnership with the City of Austin for the benefit of all. Your dedication to improving public greenspaces in our community is inspiring, and we are grateful for your continued support.

Waterloo Greenway will continue to host public forums to engage Austinites in the design of Palm Park, so be sure to follow us on social media and sign up for email updates to keep up to date on upcoming sessions!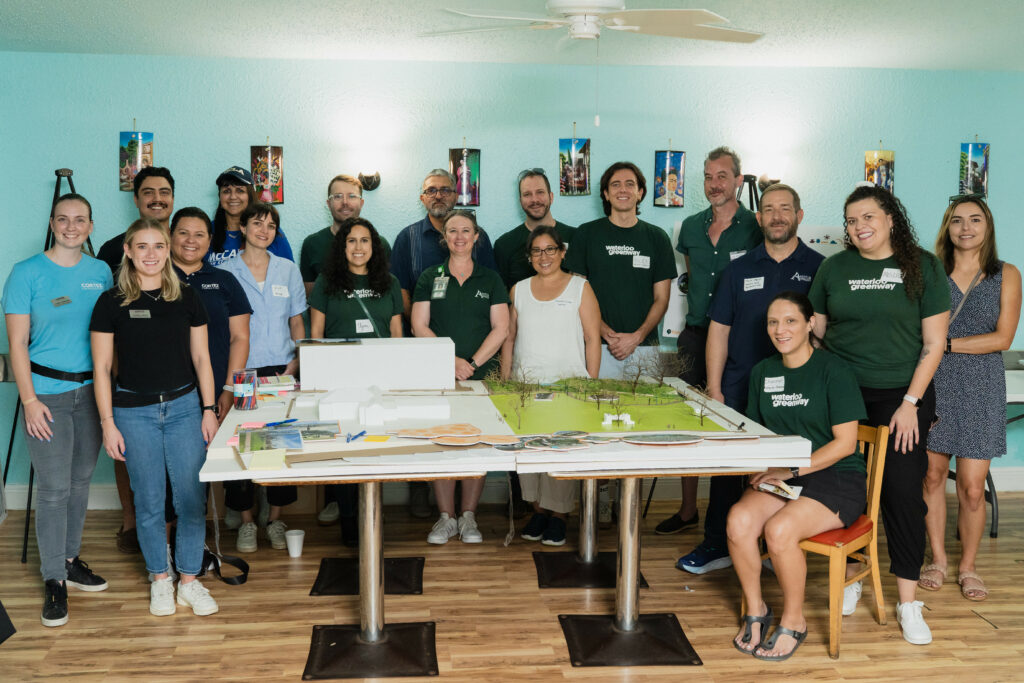 Photos by Lauren Slusher
Supported by

For more information and other ways to support, please contact us at development@waterloogreenway.org.