Waterloo Park
Now Open
Waterloo Park is ready for you!
Get lost exploring 11 acres of revitalized greenspace, 1.5 miles of trails, stunning Hill Country Gardens, the Moody Amphitheater, and so much more. Waterloo Park is a natural haven where Austinites and visitors alike can enjoy the outdoors, gather with friends, and build community.
Austin-Travis County is currently in Stage 3 of COVID-19 Risk-based guidelines.
---
Working with the City
Waterloo Greenway has been working in close partnership with the City of Austin to ensure a fun, safe reopening of Waterloo Park this summer.

As Waterloo Park opens to the public, Waterloo Greenway Conservancy encourages visitors to follow local, state and CDC COVID-19 health and safety guidelines. We hope you enjoy exploring Waterloo Park as you feel comfortable, and encourage wearing a facemask during your visit.
General Information
Waterloo Park is located at 500 E 12th Street, Austin, TX 78701.

Park Hours: 5:00 AM – 10:00 PM, including the Moody Amphitheater. Hours are subject to change on event days.

The Moody Amphitheater Box Office located at 1401 Trinity Street is open on Tuesdays and Thursdays from 11:00 AM – 3:00 PM. Tickets can be purchased at the Box Office by debit/credit card only.
Parking
Waterloo Park guests can find parking at the nearby Capitol Visitors Parking garage located at 1201 San Jacinto Blvd. and State Garage F.

Additionally, you can use the Trip Planner at capmetro.org/plan for public transit options.

Personal bike parking is available at 15th St. & Red River St. and along Trinity St. between 12th St. & 15th St.
Waterloo Park Rules
Park Rules Prohibit
Littering
Glass containers
Alcohol consumption outside of designated areas
Smoking, vaping, or illegal drug use
Off-leash pets
Skateboarding, scooters, or motorized vehicles
Climbing on buildings and railings
Entering Waller Creek or feeding wildlife
Entering garden beds or disturbing flowers and plants
Obstructing entrances, sidewalks, and trails
Performances or amplified sound, except by permit
Commercial activity including photography, except by permit
Camping prohibited, except by permit
All visitors are subject to City of Austin and Parks & Recreation regulations and ordinances.
To reserve a space, visit waterloogreenway.org/rentals.
Waterloo Park Accessibility
Waterloo Park was designed and built with people of all abilities in mind. It is our top priority to provide equitable access to guests with disabilities at Waterloo Park, and future park spaces along Waterloo Greenway. Upon opening, Waterloo Park will be in compliance with The Americans with Disabilities Act (ADA).

If you have a question about ADA accessibility at Waterloo Park, please contact us at info@waterloogreenway.org.
ADA Entrance
There are multiple ADA Entrances along the perimeter of Waterloo Park.
ADA Parking
State parking garages have ADA parking spaces available first-come first-served on event nights. Convenient venue access is provided immediately east across the street from the garages to the designated ADA entrance.

If you are receiving a Cap Metro Special Transit ride, please instruct the driver to drop you off at 1401 North Trinity street. Expects delays at the end of night during public egress and traffic from the venue.

Capital Metro bus stops located near the venue include:
Stop ID 593: at Lavaca/15th St.
Stop ID 864: at Trinity/12th St.
Stop ID 919: at San Jacinto/14th St.
Stop ID 6382: at Red River/11th St.
Interpreter Requests
If you will need an interpreter for an event at Moody Amphitheater, please give us at least 2 weeks notice to secure. Guests that request an interpreter will need to pick up their tickets at will call. When the tickets are picked up we will introduce you to your interpreter for the evening and take you to your seats. There is no charge for interpreter services. Please email info@waterloogreenway.org to arrange for an interpreter for your visit.
ADA Restrooms
ADA stalls are located in each restroom at Waterloo Park.
Waterloo Park Opening Season
This fall, enjoy a wild array of free and low-cost community programs for the whole family! From weekly fitness classes to community festivals, there's always something fun happening at Waterloo Greenway!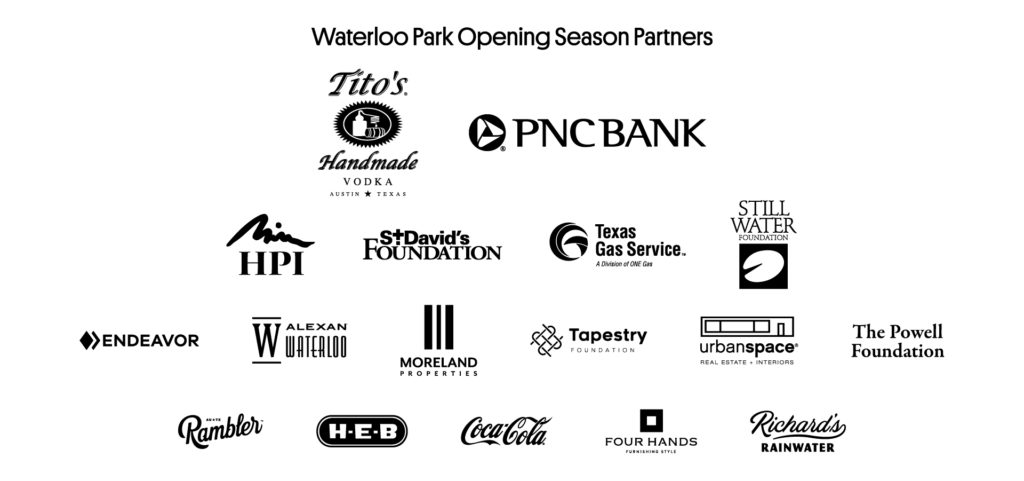 Waterloo Park Opening Season Partners
Interested in learning about partnership opportunities?
Get in touch with our Sponsorship Manager Casie Latimer at clatimer@waterloogreenway.org.