Today is an important day for reflecting on our history, in observance of Juneteenth's 155th anniversary. Since 1865, the date has commemorated the occasion of President Lincoln's Emancipation Proclamation, official in 1863 and became enforced in Texas, marking a day of liberation and celebration for enslaved people.

We would like to join our black community in remembrance of our history, honoring the freedom communities on Waller Creek by sharing their story below. This history was documented in our year-long research project, including Austin History Center archives, community leader oral histories, and collaboration with local historians. Read short stories here — when Waterloo Park opens, you'll also be able to learn this history in person at the park!

Waterloo Greenway stands in support of Austin's black community and against racism. We continue reflecting on our organization's role in fighting against systemic inequities and furthering inclusivity in our parks. Read more here.
---
Waller Creek History
After enduring enslavement, recently freed African Americans created a community along the banks of Waller Creek. Sometimes called the "Red River Community," these families lived in and around the land that is today Waterloo Park.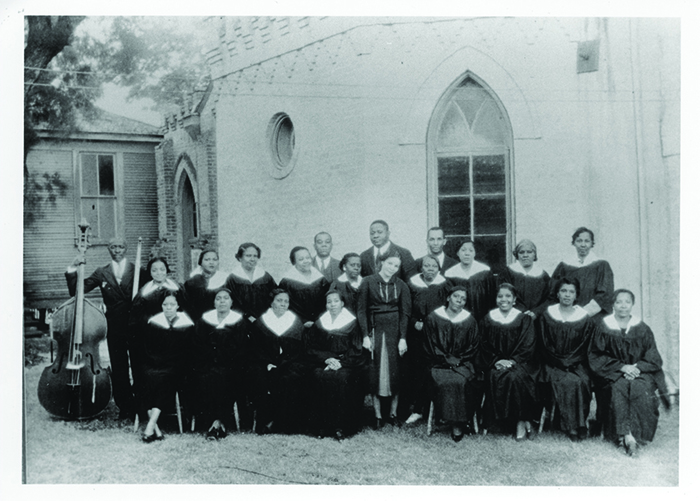 Pictured here, Reverend Levi Stanmore with members of First Baptist Church in 1930, prior to moving their church from 14th & Red River to a new location in East Austin. Originally founded by freedmen, this church was just one of the many long-standing community institutions in the neighborhood.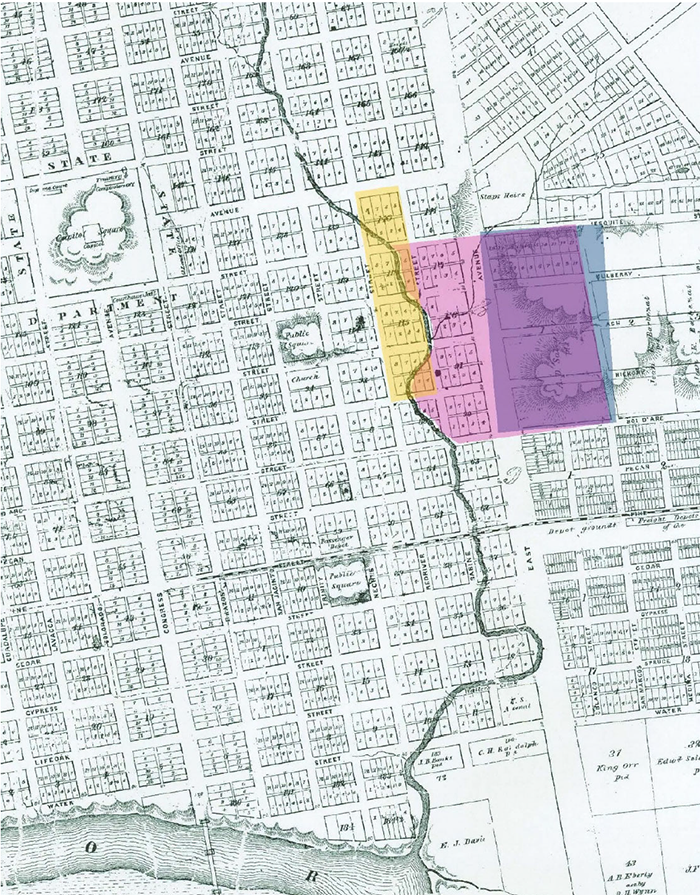 Louis Klappenbach's 1876 map of the city of Austin highlighting the boundaries of the Pleasant Hill freemen community. Michelle Mears (blue) Austin Public Library (pink) Jane Manaster (yellow).
---
"After 155 years, it's well past time to finally set aside a day for recognizing, observing, and celebrating the end of slavery in Texas and the U.S. At our next #ATXcouncil meeting, I plan to bring forward action to designate Juneteenth as an official City of Austin holiday."
– Council Member Natasha Harper-Madison, District 1
---
Photo Source: Jacob Fontaine Religious Museum

Map source: Austin History Center, Austin Public Library. Overlay by HHM. Mears, Michelle M. And Grace Will Lead Me Home: African American Freedmen Communities of Austin, Texas, 1865 – 1928. Lubbock, Tex: Texas Tech University Press, 2009. Austin Public Library, "The Early Freedmen Communities," accessed July 7, 2018, austinlibrary.com/ahc/downloads/FreedmanMapOptimized.pdf. Jane Manaster, The Ethnic Geography of Austin 1875-1910, master's thesis, The University of Texas at Austin, May 1986.
---