Creek Show 2023
Creek Show
Date: November 10-18, 2023
Time: 6 PM – 10 PM
Location: Waller Creek at 700 E 9th St to Waterloo Park
FREE • No tickets required
Waterloo Greenway invites you to experience 9 nights of FREE dazzling, illuminated art along Waller Creek this fall. Get a first look at this year's art installations below!
Since 2014, Waterloo Greenway has commissioned site-specific work by Austin-based artists, architects, designers, and landscape architects chosen through a public Call for Ideas hosted in collaboration with AIA Austin. Artists explore different themes related to Waller Creek that range from history to hydrology and beyond.

In addition to six new light-based art installations, Creek Show 2023 will feature free activities each evening at Waterloo Park, including nightly live music, food & beverages, and family-friendly fun. As always, this event is free and open to the public. Tickets are not required to enter. Stay tuned for more details as we get closer to the show!
For information on Creek Show sponsorship opportunities and other ways to support this year's event, please contact us at development@waterloogreenway.org.
Want to be a food vendor at Creek Show?
Creek Show 2023 Art Installations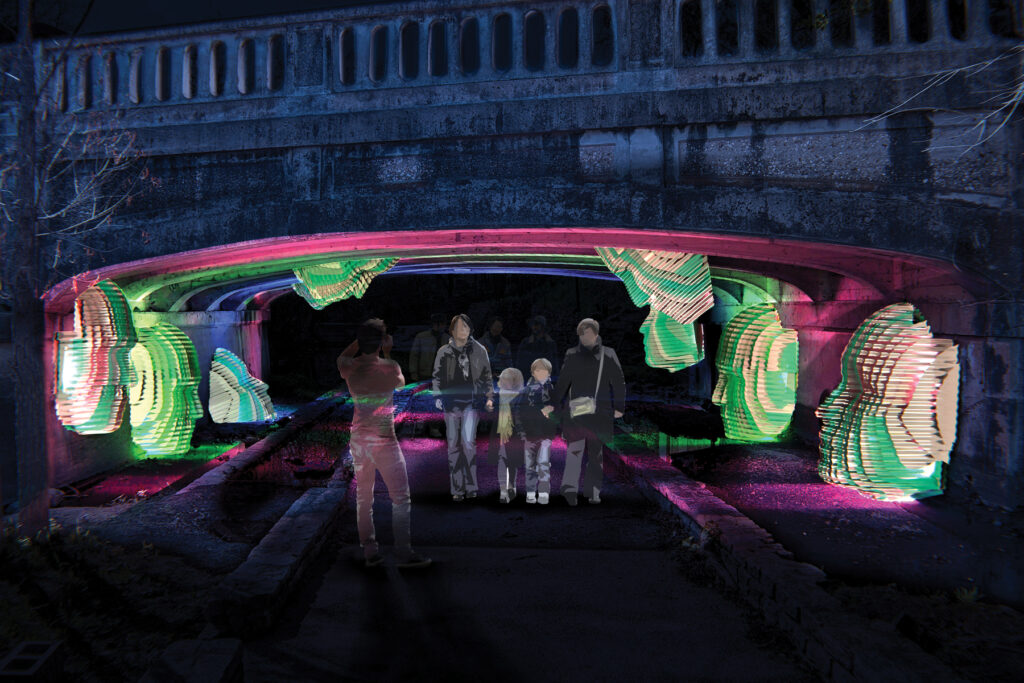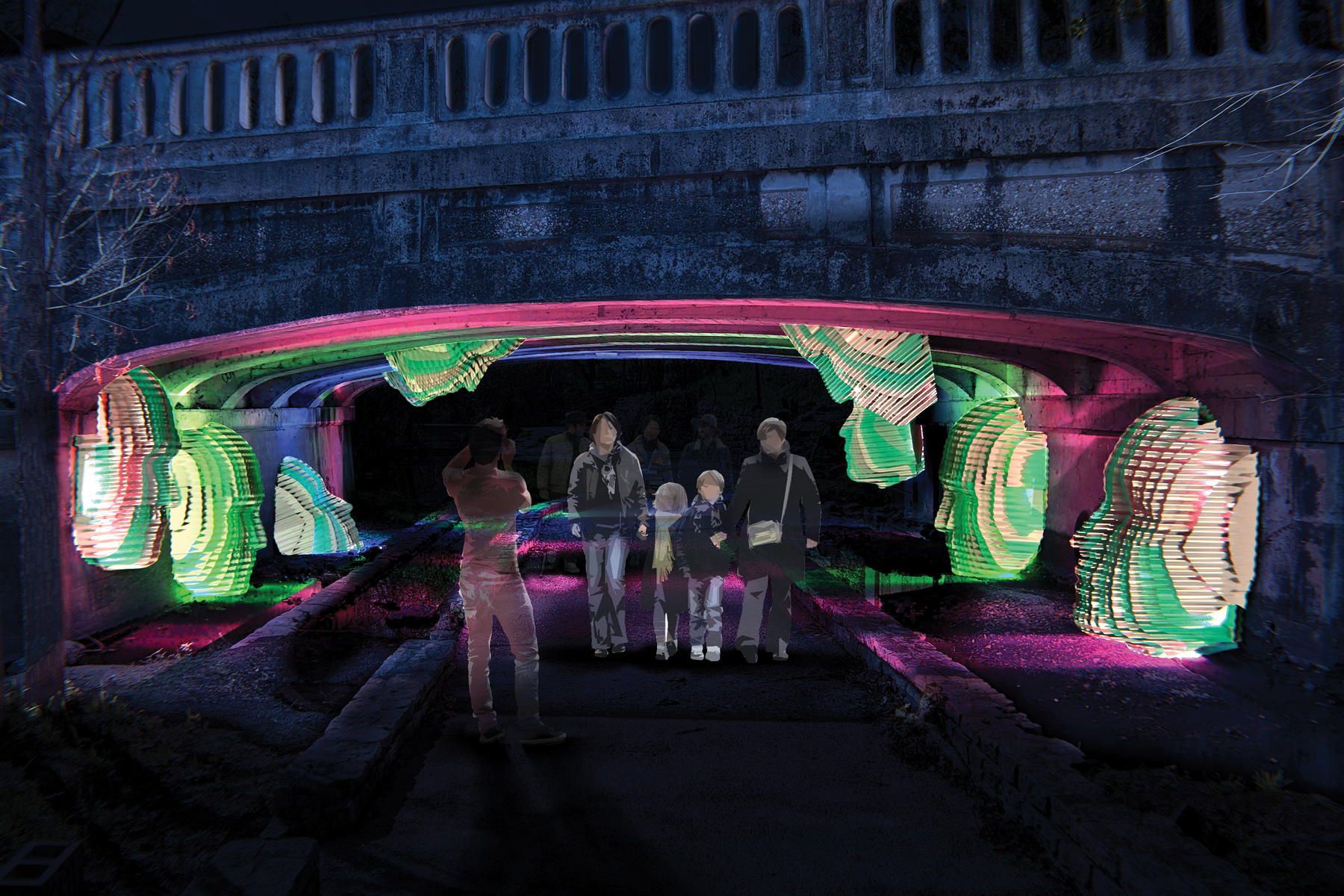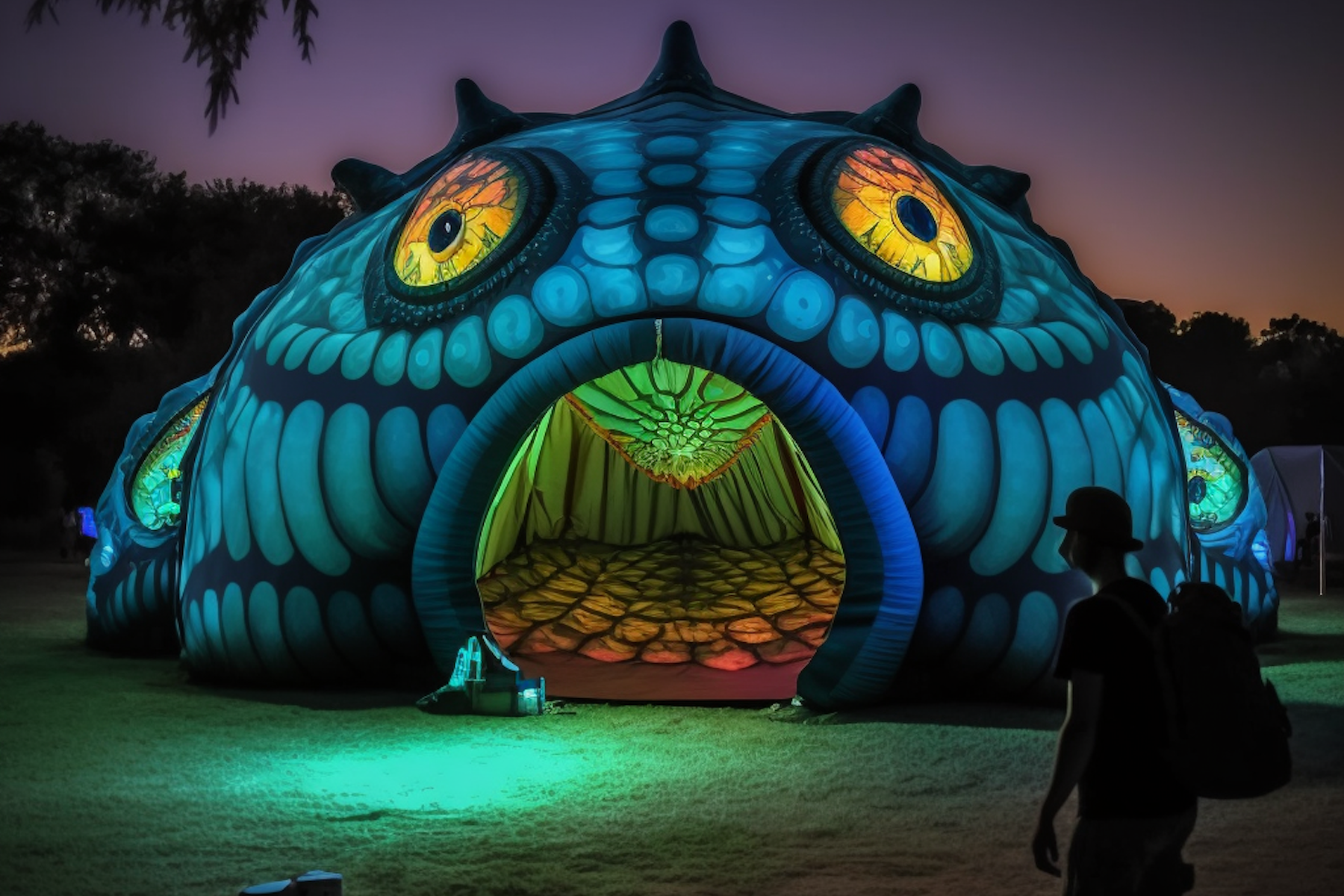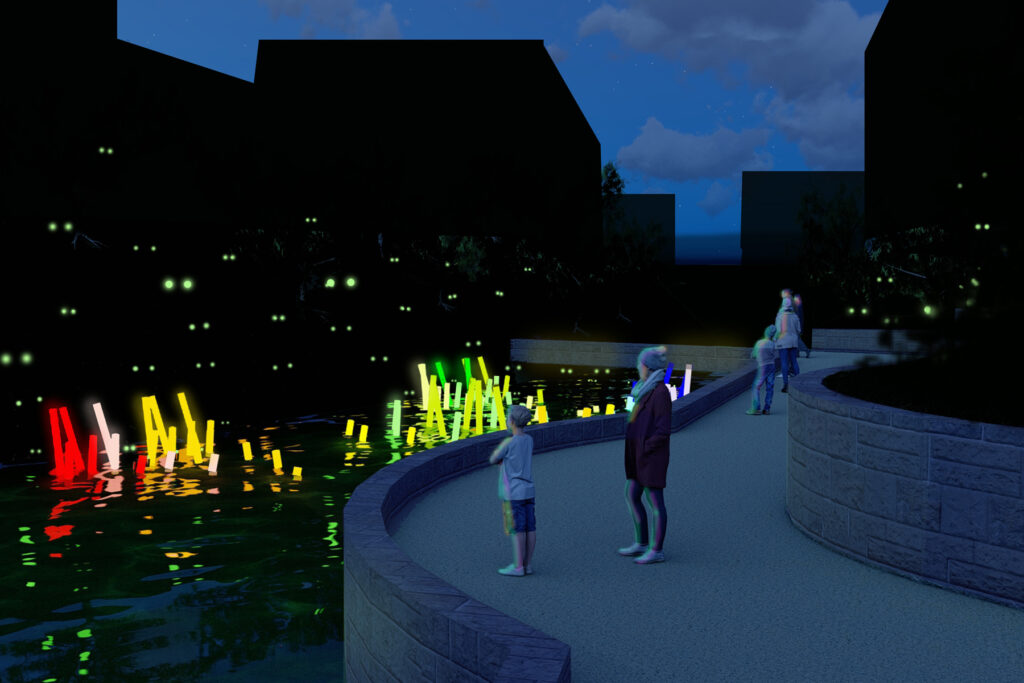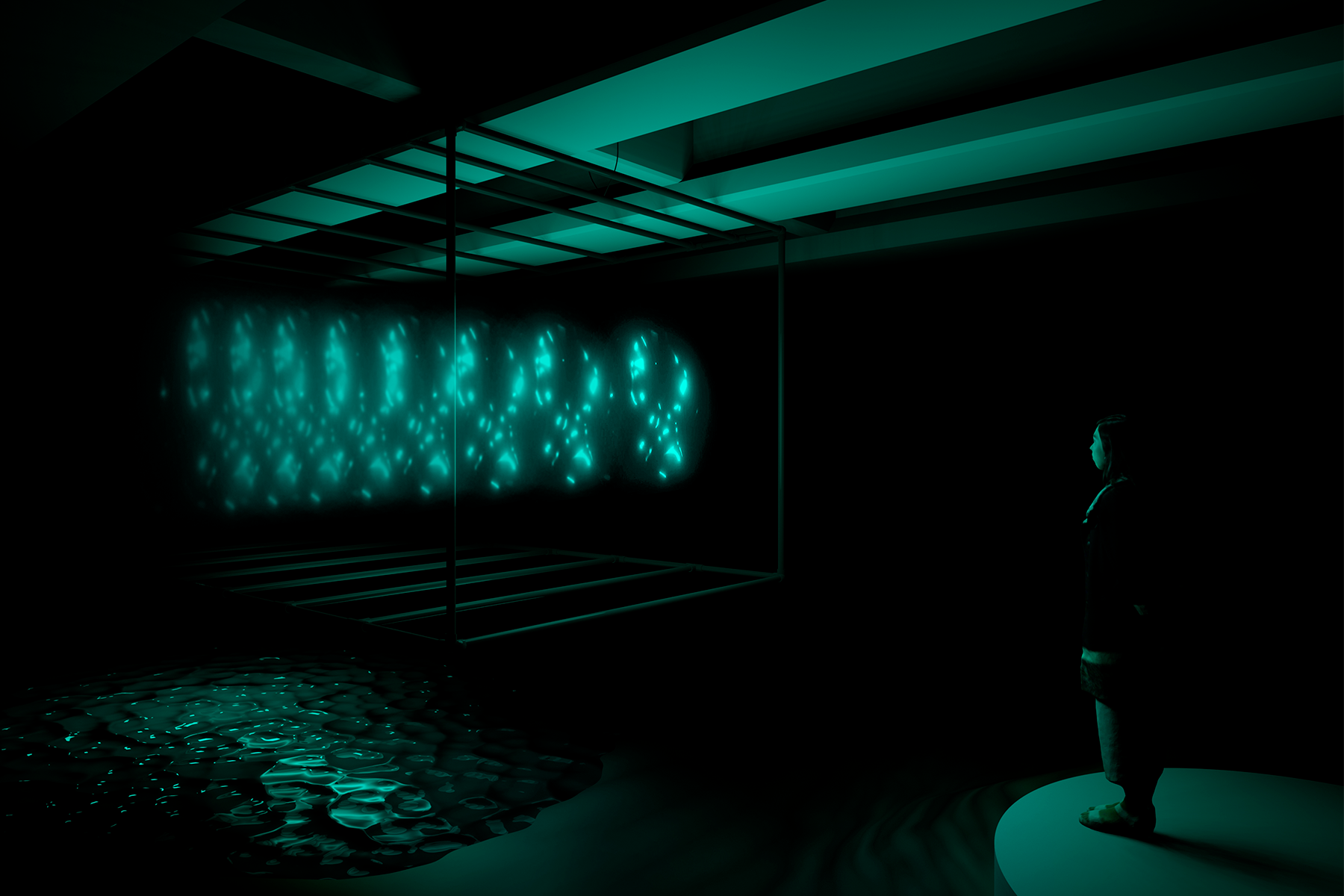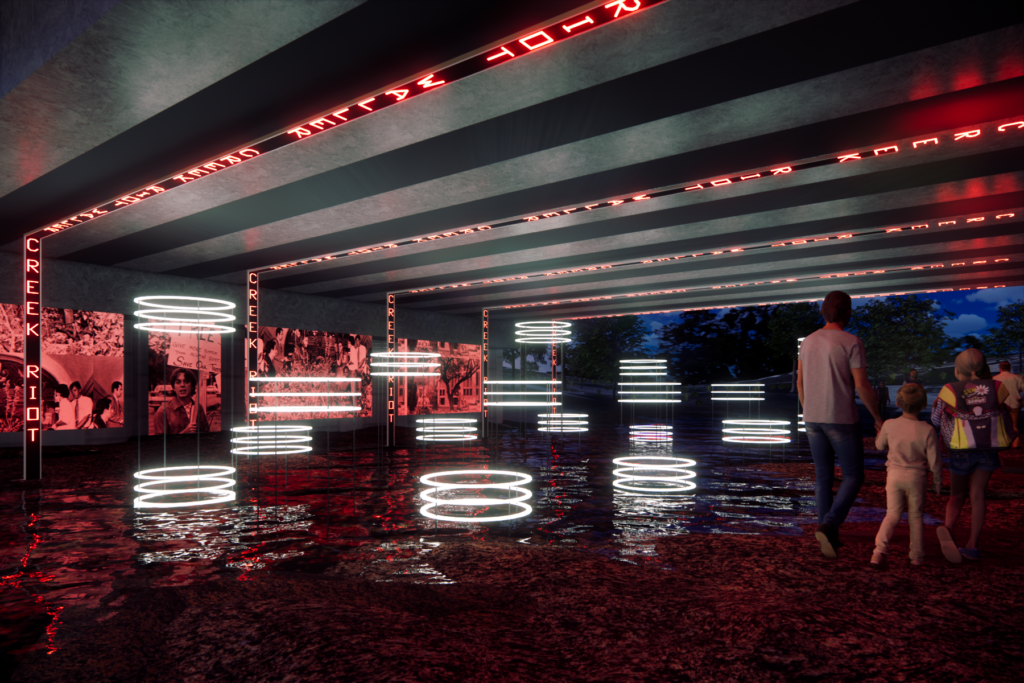 Installations & Design Teams
Babble
Lucas Greco & Reeve Hunter
Babble is a light-hearted contemplation of our changing perceptions of Waller Creek. Together, the sights and sounds of the installation call visitors to break from the bustle of busy lives and experience anew and upclose the burbling waterways pulsing calmly through our city.

Three types of corrugated roofing panels, sharing a common form but contrasting in color and character, come together to form illuminated heads of extraordinary size from ordinary construction materials. Speakers are installed among the faces producing muttering sounds of voices and babbling fading in and out while contrasting tones and melodies intermingle in unique ways depending on the viewer's vantage point.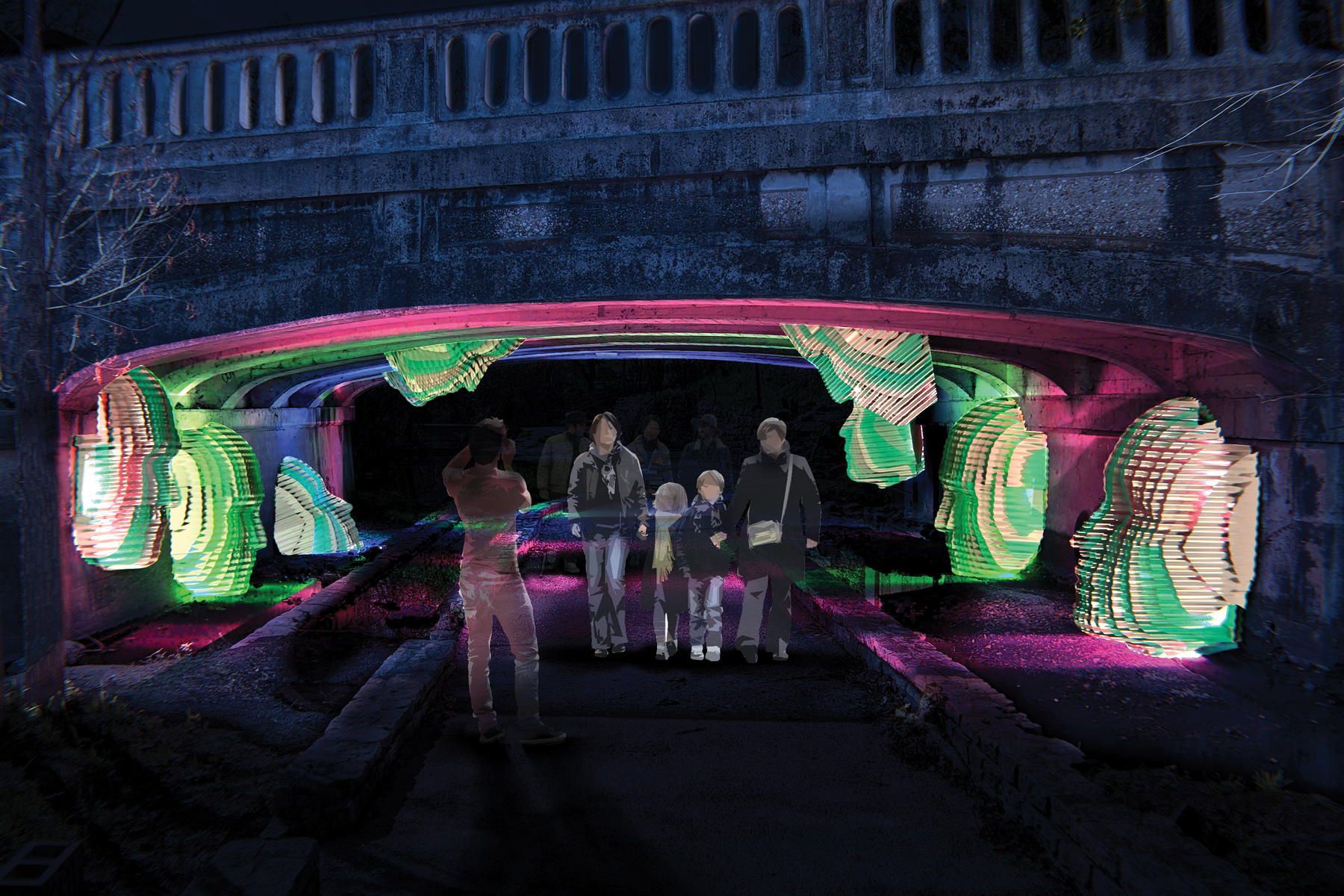 ---
The Creek Keeper
Jake Rosenberg, Clayton Lillard, Mateo Gutierrez, Chris Haddad, and Chandler Goen
Once upon a time, The Creek Keeper emerged from the depths of Waller Creek to protect its folklore and remind us of the vital connection between environment and culture.

A towering snapping turtle-like monster made from recycled materials, the installation invites us to explore the creek's unique identity and inspires us to take action in preserving our natural world. Join us on a journey of discovery and conservation, as we honor the stories of the past and light up the future of our planet.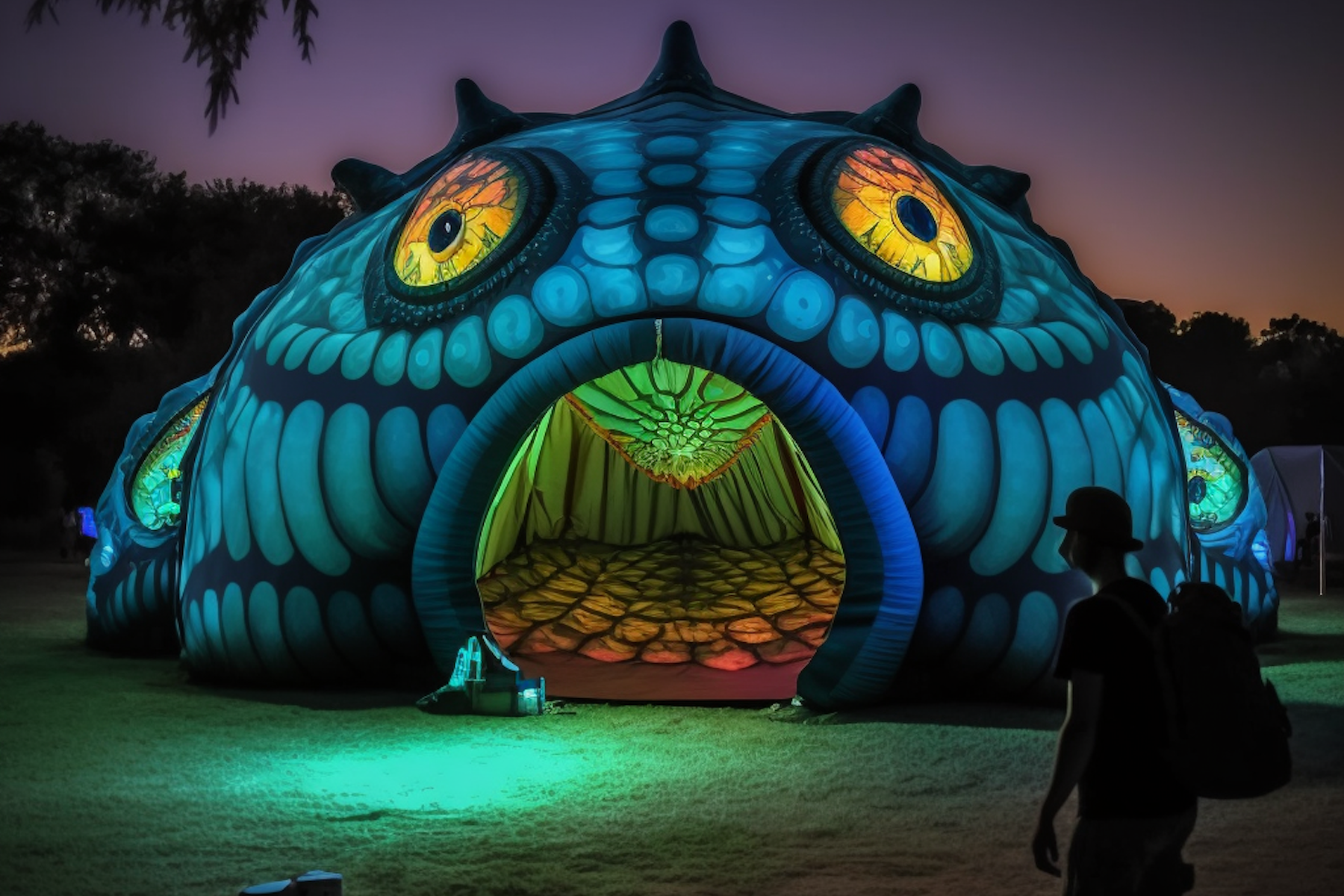 ---
Crescendo
Alex Martin & Max Hoffman
Crescendo represents the heartbeat of Austin and the Red River Cultural District—music.

The installation at Symphony Square is an array of repurposed sheet music stands with color-changing panels of light. Stop by for a song or two to enjoy an orchestrated light show!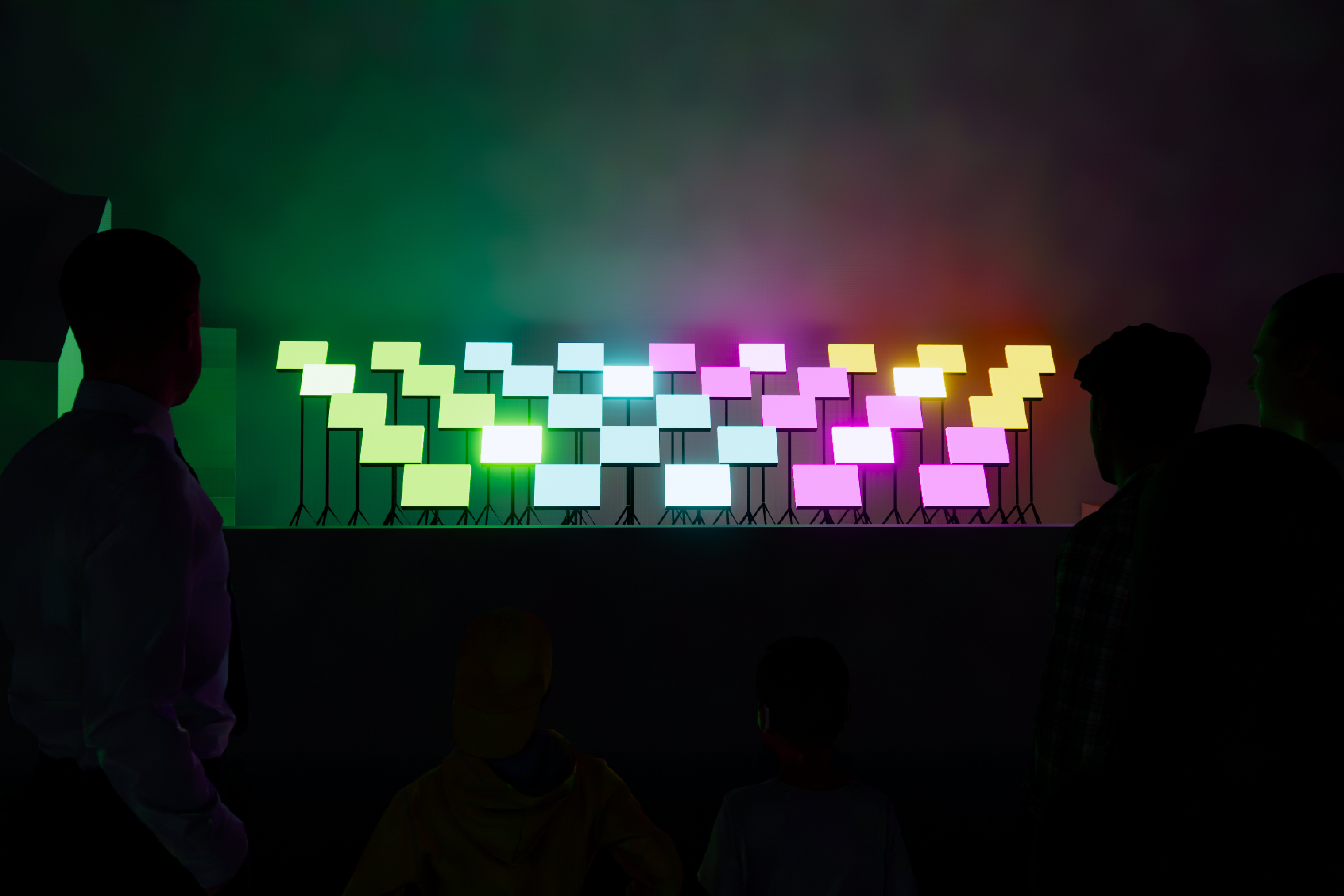 ---
Into the Wild
Nolan Stone & Ryan Blair
In a rapidly urbanizing world, our few remaining wild places exist in the form of urban creeks and greenbelts.

Into the Wild is a plea for wilder cities that highlights the life that still exists within. The flora and fauna that reside in these spaces have existed here long before humans and the resilient remainders were required to adapt to human development. Once the daylight wanes and the moonlight illuminates the water, the creek comes alive reminding us of what once was and what could be.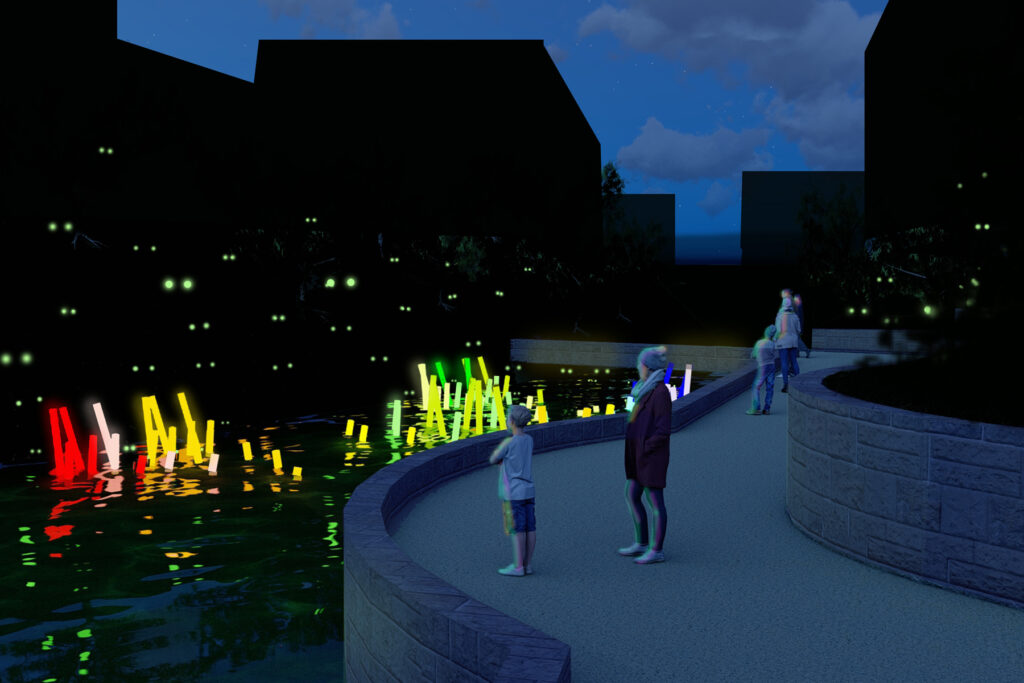 ---
Melting Mirrors
Topher Sipes & Jasna Boudard
Melting Mirrors is a multi-layered video installation, featuring digitally manipulated slow-motion video of the flow and movement of the water surface of Waller Creek.

The installation features multiple parallel screens of translucent fabric as staggered surfaces for the video content, allowing the projected light to pass through each layer to the next and simulating slices of a holographic cone for viewers as they pass by. This 3-dimensional experience facilitates viewing depth above and beneath the creek's surface through the interplay of water with light.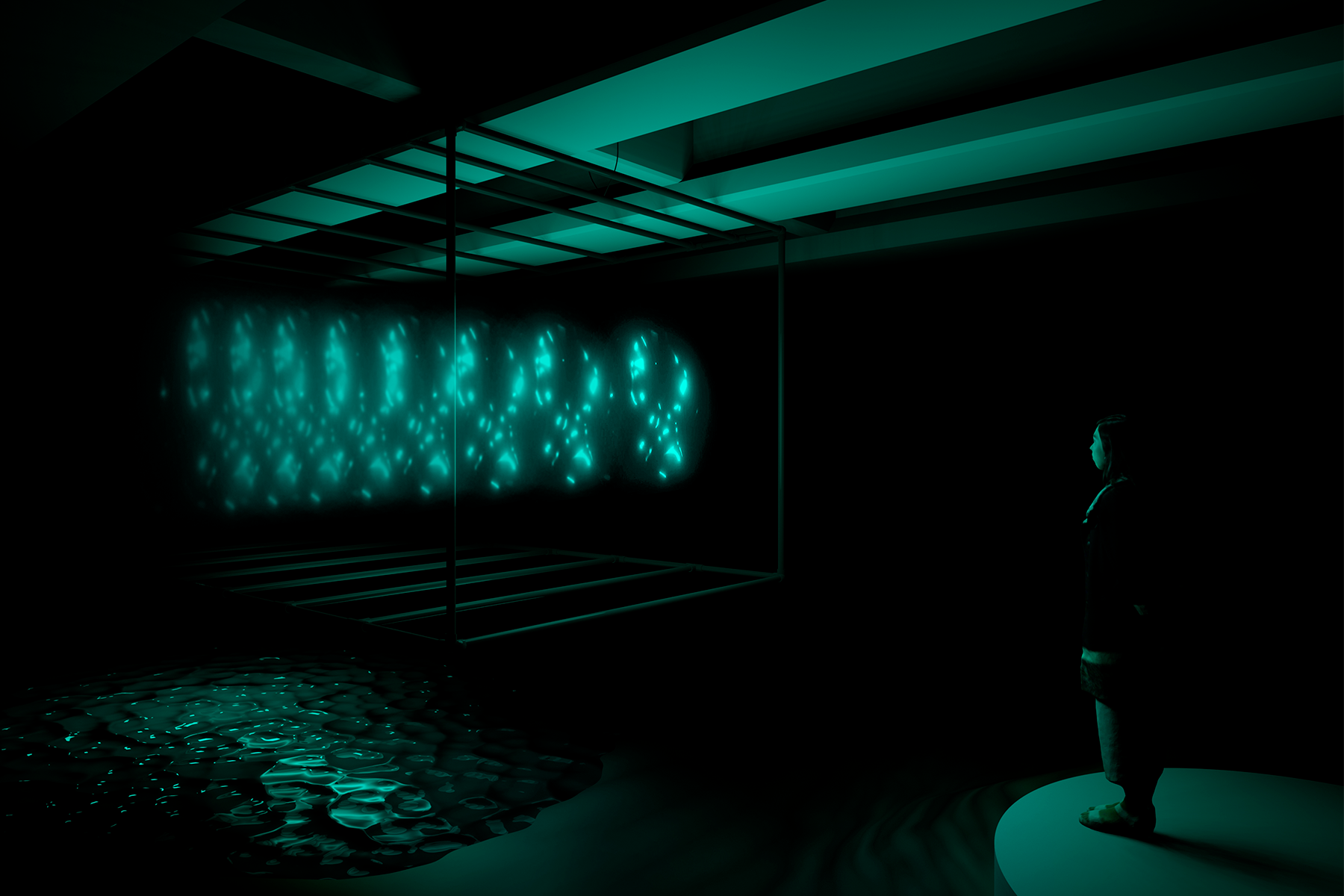 ---
Riot
Maria Berrios & JuanRaymon Rubio
Riot is a memorial installation that showcases the Battle of Waller Creek and offers a reflection on the destruction of Austin's natural landscape. The design gives viewers insight into the history of the protest and also considers the aftermath of a notable political and environmental fight.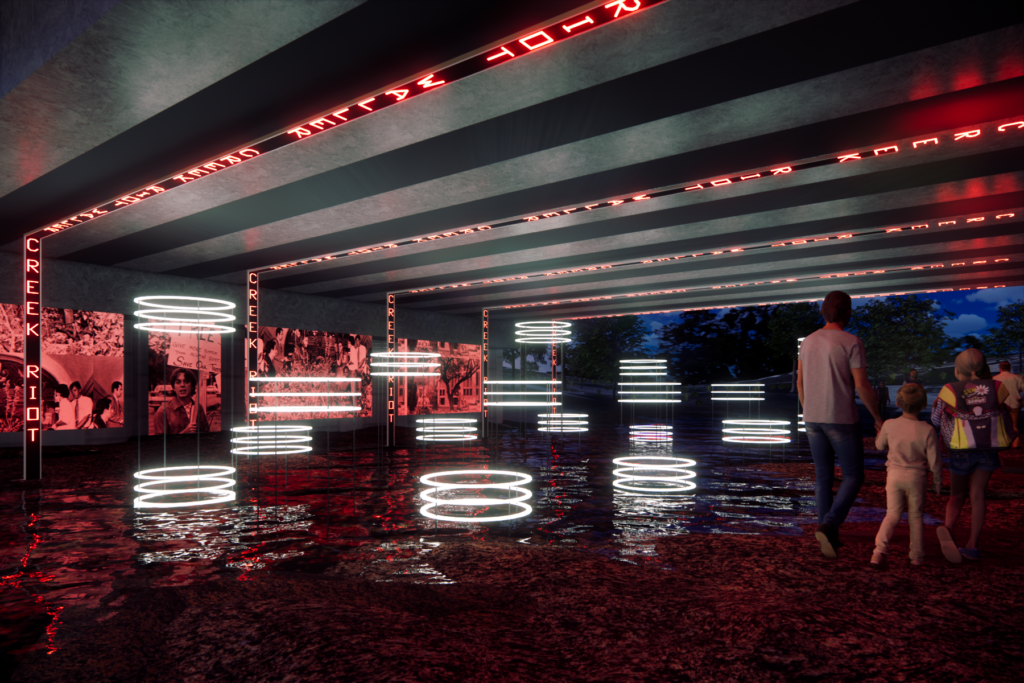 ---
2023 Creek Show Selection Committee
Ingrid Spencer
Executive Director, AIA Austin & Austin Foundation for Architecture
Meredith Bossin
Managing Director, AIA Austin
Melba Whatley
Creek Show Co-Founder
Donald Miller
Director of Programming, Waterloo Greenway
Taylor Davis
Designer, TBG Partners
Kira Dell
Conservation Leader
Ernest Ramirez
Artist & Owner, Muertos Clothing Co.
Sunny Schneberger
Former Creek Show Artist
Drew Wilson
Project Architect, Sidetracked Studio
Norma Yancy
Principal, Sidetracked Studio
Past Shows
Since 2014, Waterloo Greenway has commissioned local artists to create site-specific, light-based art installations to help raise awareness about the ongoing transformation of Waller Creek and our new 35-acre urban park system coming to downtown Austin.

Learn more about the artists and installations of past Creek Shows below!