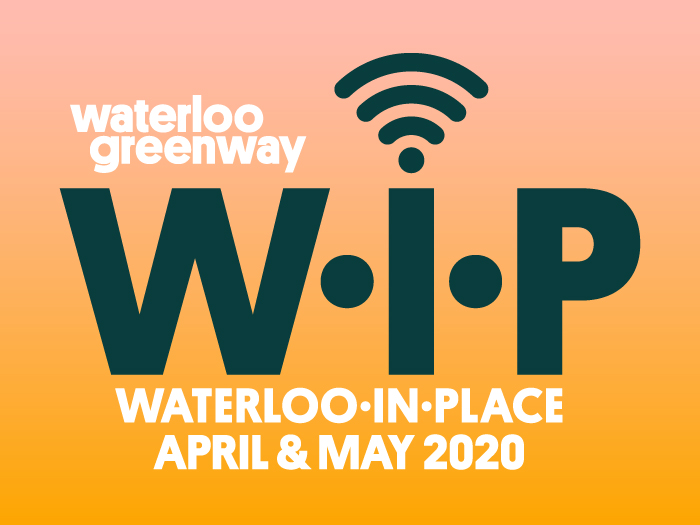 Waterloo Greenway is all about community and if we can't be together in person, we will find other ways to stay connected.
That's why we're so excited to announce Waterloo-In-Place (W·I·P), a series of free online experiences that will bring you closer to our community and keep you up to date with everything happening at Waterloo Greenway from home. April is Earth Month so we'll be highlighting themes like biodiversity, sustainability, and how we can reduce our impact on the natural environment.

On Earth Day, April 22, we'll be kicking off our W·I·P series with Waterloo Park Virtual Tours. This is your chance to get a behind-the-scenes look at the park's incredible construction progress so far. Each tour — at 12:30 PM on April 22, May 6, and May 20 via GoToMeeting — will highlight a different aspect of the park and feature presentations by Waterloo Greenway staff and our City partners. RSVP in advance to receive the video conference details and check out the tour schedule here. If you can't make it, full recordings of the tours will be posted on our website and social media channels the following day.

In addition to online tours, we'll be hosting interactive, live-streamed art classes with local artists, J Muzacz and Ami Plasse, at 1:00 PM on April 24 and May 1 on Facebook Live. Classes will be viewable on our Instagram, Facebook, and YouTube channels after the live broadcasts. Visit our events page for more details about the artists and their workshops.

In celebration of Earth Month, we're partnering with The Nature Conservancy and inviting all of Austin to participate in this year's City Nature Challenge. From April 24 – 27, communities all over the world will snap photos of wildlife (plants, animals, or any other evidence of life) and share their findings on iNaturalist, an online social network that allows people to share observations of biodiversity across the globe. If you're new to iNaturalist, you can watch a tutorial on how to use the app here.

As we continue practicing social distancing, we look forward to creating more ways to connect and stay engaged with you all online. Stay tuned for updates on more W·I·P events in the coming weeks!
Special thanks to our 2020 program sponsors:
BBVA, The Powell Foundation, Susan Vaughan Foundation, Waterloo Sparkling Water, and The WERD Company.