Celebration presented in partnership with Planet Texas 2050 featuring Superfónicos
Waterloo Greenway Conservancy today announced its full programming lineup for Waterloo Green Day, an Earth Month celebration at Waterloo Park. The free daytime festival kicks off April 24 at noon with interactive exhibits, hand-on workshops, moderated panels, live music & dance, a birds of prey flight showcase, and partner booths on topics ranging from climate change, alternative energy, water sustainability, overpopulation, waterway restoration, and Central Texas biodiversity.

Waterloo Green Day is presented in partnership with Planet Texas 2050, a research grand challenge at the University of Texas at Austin. Planet Texas 2050 is an eight-year sprint to find solutions that will help make our communities more resilient and better prepared for the impacts of climate change and rapid population growth. The initiative brings together architects, archaeologists, city planners, public health experts, geologists, engineers, computer scientists, artists — and more.

Planet Texas 2050 activations will include "Postcards from Planet Texas" with artist Juliet Whitsett, a panel discussion between local activists on climate justice, and a hands-on experience presented by Melissa Kemp's lab identifying fossils from Hall's Cave. Planet Texas 2050 collaborator Ventana Ballet will perform excerpts of their new work, A Million Alien Gospels, choreographed by AJ Garica-Rameau and Dorothy O'Shea Overbey. Ventana Ballet and Austin Camerata will perform the full-length ballet at their world premiere event, Beautiful World, on June 2-4.

Located in the heart of downtown Austin, Waterloo Park celebrates our natural environment with a major environmental restoration underway along Waller Creek, 1.5 miles of scenic trails, and thousands of native plants. The 11-acre greenspace is a public park, restored in partnership with the City of Austin, and is open daily from 5am-10pm for everyone to explore and enjoy.
Event Highlights
Workshops & Demonstrations
9:00 AM – Gentle Flow & Meditation with Castle Hill Fitness
12:00 PM – Kupira Marimba Workshop
1:00 PM – Central Texas Snakes Live Reptiles
1:30 PM – Bird of Prey Flight Showcase
3:00 PM – Central Texas Snakes Live Reptiles
3:30 PM – Bird of Prey Flight Showcase
Performances & Panels
12:00 PM – DJ Zetroc
1:00 PM – Bramaya West African Drum and Dance Ensemble
2:00 PM – Climate Justice Panel sponsored by Planet Texas 2050
3:00 PM – Ventana Ballet – Sneak Peak: A Million Alien Gospels
4:00 PM – Superfónicos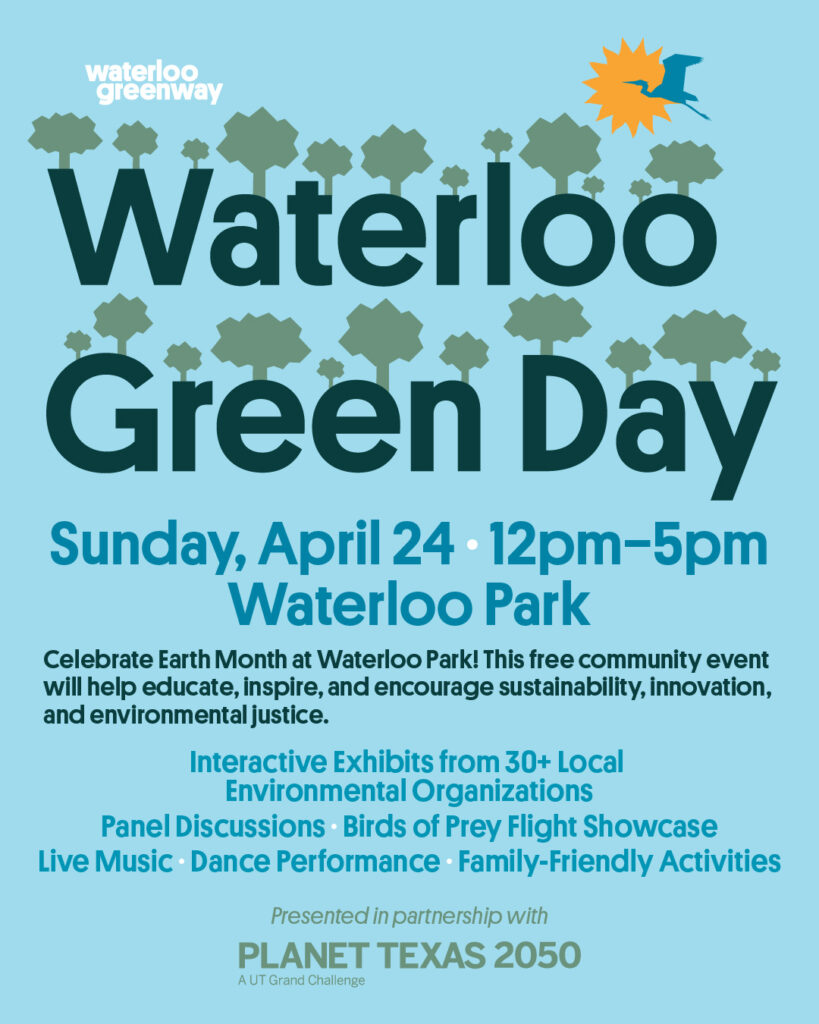 In addition, the festival will include booths from 35+ environmental and community partners, including City of Austin Parks and Recreation & Watershed Protection Departments, Austin Youth River Watch, Families in Nature, HOPE Outdoor Gallery, Solar Austin, TreeFolks, and Planet Texas 2050, all located on the Love, Tito's Lawn. 

Families and children can spend the day in the park exploring a variety of hands-on art and STEM activities from GirlStart and MadScience, a music workshop with Kupira Marimba, a scavenger hunt from Families in Nature, and live mural painting from local artists and muralists Kandy Kuo and Wade Thompson.

The event will also feature multiple wildlife exhibitions and demonstrations including birds of prey flight showcases from Last Chance Forever Birds of Prey Conservancy, a Central Texas Snake live reptile display and seminars from Austin Reptile Service, and live bats with Austin Bat Refuge.

Local musicians and dancers will take over the Moody Amphitheater stage throughout the festival including DJ Zetroc, Ventana Ballet, and Superfónicos.

"We're thrilled to partner on Waterloo Green Day to share environmental education and experiential and arts-based learning opportunities with Austin families in fun and exciting ways, while supporting Waterloo Greenway's mission to renew the natural environment, promote play, and provide free, environmentally conscious programming," said Dr. Heidi Schmalbach, Planet Texas 2050 Program Director. 

Waterloo Green Day is presented by Ascension Seton, Capitol Wright Distributing, PNC Bank, and Tito's Handmade Vodka, with support from Four Hands Furniture, H-E-B, LALO Tequila, The Powell Foundation, Rambler Sparkling Water, Richard's Rainwater, and Tapestry Foundation. For more information on sponsorship opportunities and other ways to support our free community programming, contact Brendan Bujold at bbujold@waterloogreenway.org.