Pop-Up Picnic
UPDATE: Your health and safety is our top priority and we're currently working on restructuring our plans for the 8th Annual Pop-Up Picnic. Please stay tuned for updates.
---
Date: April 4, 2020
Time: 6 p.m. – 10 p.m.
Location: Palm Park
Free and open to the public
Nothing's better than a picnic … unless it's the beloved Waterloo Greenway Pop-Up Picnic on the banks of Waller Creek. Spread out your blanket and enjoy incredible food, music, and sunset views with thousands of Austinites supporting the same vision — a boundless public park system in the heart of downtown Austin.

The evening in historic Palm Park features – what else – picnic baskets! Ones bursting with mouthwatering culinary creations prepared by top restaurants in town. More than 20 restaurants curated baskets and creative libations last year, including Uchiko, The Salt Lick, Lucy's Fried Chicken, Pitchfork Pretty, Lou's Austin, and Le Politique, to name a few.

April 2020 marks the picnic's 8th anniversary, and we're planning our biggest and best event to date! Entrance is free and open to the public. More details coming soon!
Pop-Up Picnic Co-Chairs
Julie Blakeslee & John Spong
Lauren Smith Ford
Elaine Garza
Caroline Haley
Lauren Moorman
Courtney Trucksess
"We throw the picnic each spring to raise funds and awareness, but there's no confusing it with a black-tie gala. It just feels like Austin being Austin — the kind of coming together that, when Waterloo Greenway is completed, will be possible every night of the year."

John Spong, Pop-Up Picnic Co-Chair
---
Pop-Up Picnic Sponsors
Presenting
Gold
Buie & Co.
MFI Foundation
Urbanspace
Bronze
Hotel Saint Cecilia
Michael Hsu Office of Architecture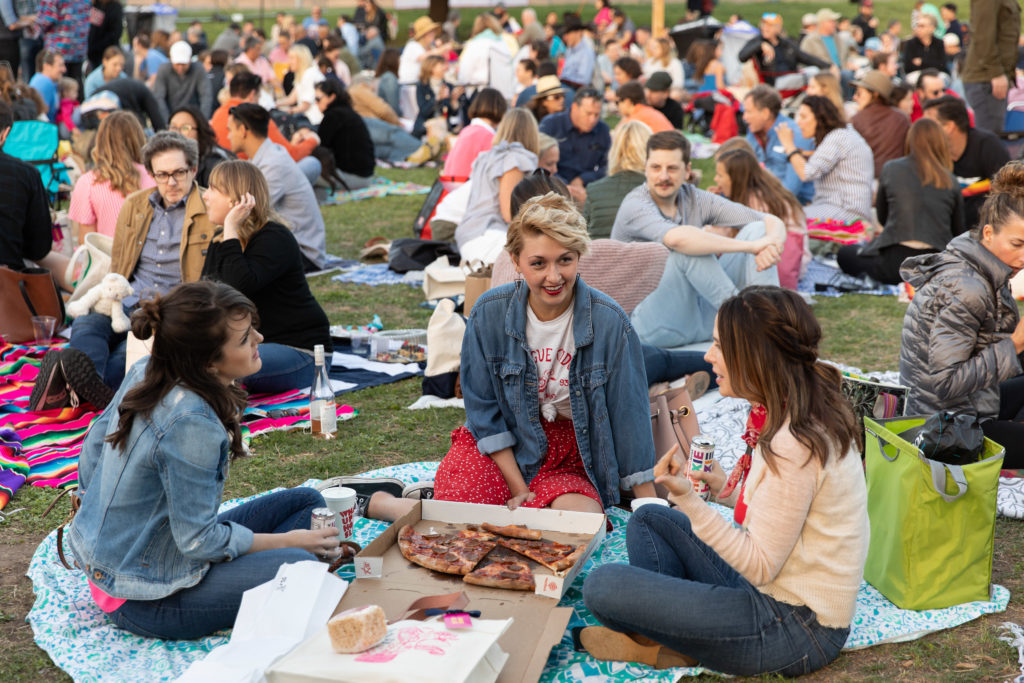 Pop-Up Picnic baskets will go on sale in March — stay tuned for updates!
How does Pop-Up Picnic Work?
Pop-Up Picnic is a Waterloo Greenway event that is free and open to the public. Pre-purchase a picnic basket online or pack your own to bring with you. All baskets include a meal for two to be picked up at the event from 6:00 PM – 7:00 PM. Beer, wine, and other beverages will be available for purchase on-site.

Interested in being a Pop-Up Picnic VIP? Purchase a Park Friends Forever (PFF) package, which includes valet parking, a picnic blanket, and other great picnic swag. All purchases support Waterloo Greenway's year-round free community programs. We look forward to celebrating with you!
---
How do I get to the Picnic and where can I park?
Pop-Up Picnic is located at Palm Park (711 E. 3rd Street, Austin, TX). Check out the How to Get There tab for more information.
---
Do I need to RSVP to the Picnic?
No, Pop-Up Picnic is free and open to the public.
---
What is the rain plan for the Picnic?
Should we need to cancel Pop-Up Picnic due to hazardous weather, we will inform you via email. In the event of a cancellation, baskets will still be available for pickup on April 4th at the corner of 3rd Street and IH-35 from 6:00 PM – 7:00 PM. This will be a drive-thru pickup, and the picnic baskets will be delivered to your vehicle.

You will also be able to pick up baskets for friends and family. Just provide their last name(s) and, if possible, show their receipt.
May I bring my own food to the Picnic?
Guests are welcome to bring their own spread. Glass containers and alcohol are not allowed.
---
Is the Picnic BYOB?
No. Due to TABC permit regulations, guests may not bring outside alcohol to the event. Beer and wine will be available for purchase on-site, where all sales benefit Waterloo Greenway. Guests are welcome to bring their own non-alcoholic beverages.
---
Can I purchase baskets at the event?
A limited number of baskets will be available for purchase on site. All other baskets must be purchased in advance.
---
Where and when can I pick up my baskets?
If you purchased a basket, you may pick it up between 6:00 PM – 7:00 PM on Saturday, April 4th at Palm Park. Please bring your ID and a copy of your confirmation email (either printed or on your phone). Baskets are non-refundable and cannot be held past 7:00 PM.
---
Are dogs allowed at the Picnic?
Yes! Friendly, leashed dogs are welcome!
---
Any other questions?
Please email Bryan Rubio at brubio@waterloogreenway.org or call 512-541-3520 ext. 107.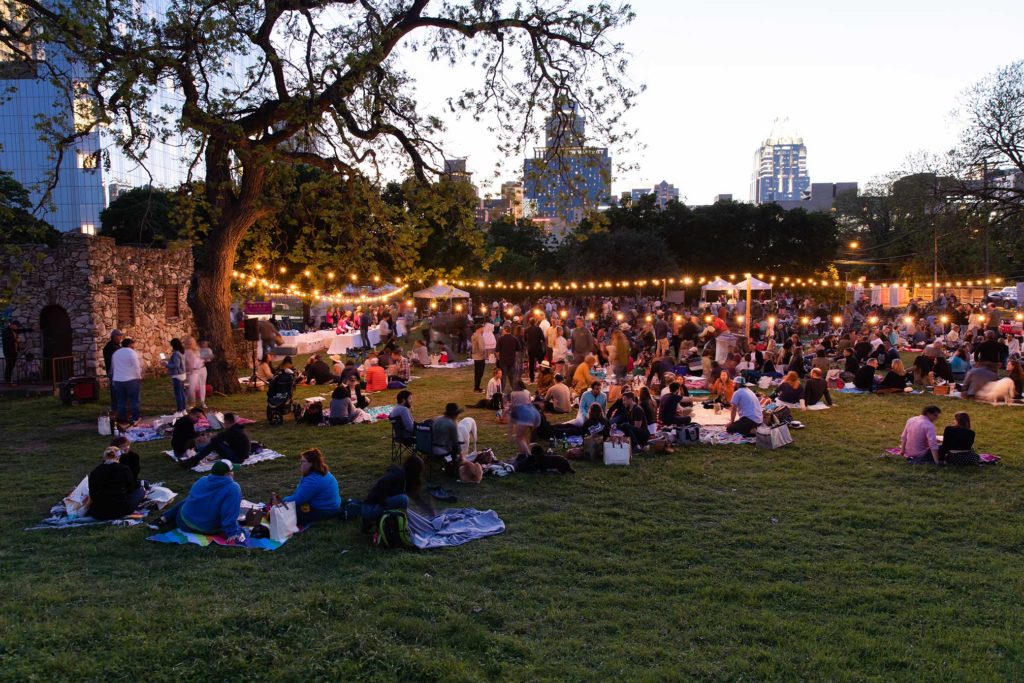 Sponsorship Opportunities
Interested in sponsoring the 2020 Pop-Up Picnic? There are many ways your company can get involved!
Volunteer Opportunities
We need amazing people like you to make our 8th Annual Pop-Up Picnic possible!
Volunteers will help to guide guests, organize picnic baskets, staff the basket pickup line, and more. Plus, free pizza before (or after) your shift!