13-Acre Project to Increase Connectivity, Revitalize Creek Around Central Business District
AUSTIN, TEXAS – May 3, 2023 – Waterloo Greenway Conservancy and the City of Austin broke ground this morning on The Confluence, the second phase of Waterloo Greenway's comprehensive plan to revitalize Waller Creek and create a 1.5-mile greenway stretching from Waterloo Park at its north, all the way to Lady Bird Lake.

Located at the southernmost point of Waterloo Greenway where Waller Creek meets Lady Bird Lake, The Confluence sits at the epicenter of the Ann and Roy Butler Hike-and-Bike Trail, Rainey Street District, Emma S. Barrientos Mexican American Cultural Center, the Austin Convention Center and Palm Park. The $91.5-million project will greatly improve the accessibility and ecological health of the most environmentally diverse section of Waller Creek, while also adding new public greenspace and much-needed bike and pedestrian connections among downtown, the Rainey Street District and East Austin.

"The Confluence will directly connect people with one of the most beautiful natural areas in Austin, as well as some of our city's most beloved cultural and historic destinations," said Mayor Kirk Watson. "The City of Austin is proud to partner with Waterloo Greenway to inject new life into this section of Waller Creek through this legacy project, which will benefit our community for generations to come."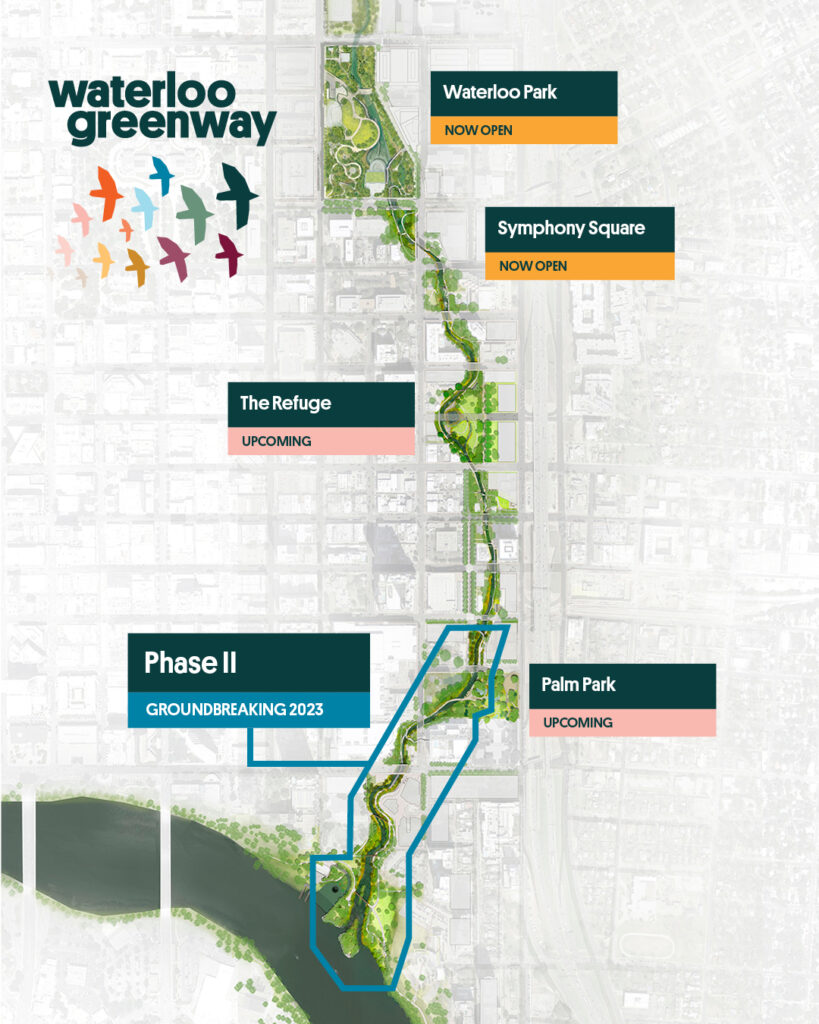 Key features of The Confluence include:
Three lightweight pedestrian suspension bridges, creating stunning canopy walkways and new east-west connection points;
Universally accessible pedestrian and bike trails connecting 4th St. to Lady Bird Lake, as well as an 800-foot boardwalk under Cesar Chavez St.;
Public greenspaces including Lagoon Overlook, Explorer Garden and Lakeview Terrace that can be utilized for community events and gatherings; and
Lush landscaping of more than 1,550 new trees and 200,000 mature plants that will aid in improving downtown air quality and ecological function and reducing greenhouse gas emissions.
"The Confluence will completely transform this area, restoring the health of the creek and giving visitors new greenspaces to explore, gather in, and enjoy, in one of the densest and fastest growing parts of Downtown Austin," said Jesús Aguirre, CEO of Waterloo Greenway. "Our mission at Waterloo Greenway is to create a connected urban park system that promotes the wellbeing of our community, our environment and our local economy — and the groundbreaking of The Confluence represents the next step in delivering on that promise to the people of Central Texas."

This transformational project is made possible by a unique partnership between Waterloo Greenway Conservancy, a non-profit organization, and the City of Austin's Watershed Protection and Parks and Recreation departments. The Confluence will reconstruct sections of fallen creek banks that have been eroded through decades of flooding.

"The completion of the Waller Creek Tunnel allows us to focus on restoring the streambanks, water quality and aquatic habitat of this urban creek," said Jorge Morales, Director of the Watershed Protection Department. "It has taken the partnership between multiple city departments, nonprofits and other agencies to get to this point and I'm proud of all the collaboration."
Construction of the native landscapes, restored Waller Creek, park spaces, and trails known as The Confluence, will create a beautiful natural amenity in an area of downtown experiencing some of the most intense development in Austin, including high-rises with new homes, offices, stores, restaurants and hotels immediately adjacent and in the nearby Rainey Street District.

"With City of Austin funding and generous private support, Waterloo Greenway has brought Austin's community together to enjoy the natural beauty of our outdoors. With $9 million in federal funding, The Confluence will bring us more green space, cleaner water, and economic development potential. This federal support for Austin's investment in valued green spaces is the first environmental infrastructure project to ever be approved in the State of Texas," said Congressman Lloyd Doggett.

Completion of Waterloo Greenway will require ongoing funding support from multiple sources. To date, the partnership has received funding through philanthropic support from Waterloo Greenway Conservancy, a first ever U.S. Army Corps of Engineers project under the environmental infrastructure law in the State of Texas, and direct funding from multiple City of Austin departments, including Watershed Protection, Parks and Recreation, Development Services, Austin Energy, the Convention Center and Austin Water. To construct The Confluence phase of the project, Waterloo Greenway Conservancy is actively seeking an additional $10 million in private philanthropic support to complete construction, as well as ongoing design for the next phase of the project, including a restored, community-centered Palm Park.

"Waterloo Greenway is an opportunity to make our great city even greater, greener, healthier, and more connected. A legacy project such as this will require our entire community coming together to deliver on a world class vision. Our new Waterloo Park is proof of what we can achieve together. Please consider joining our community of supporters to help finish this once in a lifetime opportunity. With your help, we will create an Austin asset for the ages," said Gary Farmer, President of Heritage Title and Capital Campaign Co-chair.

Designed by Michael Van Valkenburgh Associates and built by Jay-Reese Contractors, The Confluence is expected to be completed at the end of 2025. A future phase includes revitalizing the historic Palm Park, which will become a major Waterloo Greenway entry point and community gathering space. The northern end of The Confluence will connect to Palm Park along Red River St., between 2nd and 3rd streets. Eventually, the final construction phase, known as The Refuge, will complete the continuous 1.5-mile system.
Phase II: The Confluence Before & After Renderings
ABOUT WATERLOO GREENWAY:
Waterloo Greenway Conservancy is a non-profit organization whose mission is to create and maintain an extraordinary urban park system and a restored Waller Creek, in partnership with the City of Austin, for the benefit of all. The Conservancy renews the natural environment, promotes play, health and wellness, economic vitality and mobility, and engages the community through outreach, education, cultural events, and the arts.
ABOUT THE WATERSHED PROTECTION DEPARTMENT:
The Watershed Protection Department protects lives, property and the environment of our community by reducing the impact of flood, erosion and water pollution. We have a multi-tiered approach including a wide variety of ongoing programs such as Grow Green and the Lady Bird Lake Cleanup Crew; construction projects such as stormwater ponds and streambank restorations; and regulations to help prevent future problems. We are mostly funded by the drainage charge on utility bills.
ABOUT AUSTIN PARKS AND RECREATION
Austin Parks and Recreation Department seeks to inspire our community to learn, play, protect and connect by creating diverse programs and experiences in sustainable natural spaces and public places. This City of Austin Department protects and maintains parkland, urban forest, and trails as well as offering sports, recreation, educational enrichment, arts programs, cultural opportunities, and nature and aquatic activities for Austinites.