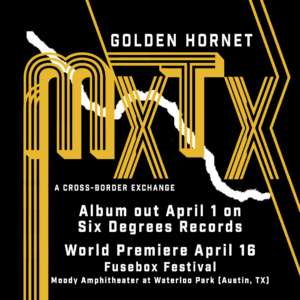 We're thrilled to announce the world premiere of MXTX: A Cross-Border Exchange coming to Moody Amphitheater at Waterloo Park on Saturday, April 16, 2022, presented by PNC Bank.
MXTX is a live performance, album and open-source audio sample library crossing physical and social boundaries to promote a message of justice and innovation. Created through collaborative exchange, this curated project involves more than 40 DJs, producers and composers from both sides of the Rio Grande – and a collective of the contributing musicians will take the stage for a live performance at 7 p.m.

The MXTX: A Cross-Border Exchange album will be released on April 1, 2022 and consists of thirteen full gender-balanced works and one bonus track that demonstrate the immense beauty and power of music to overcome divides. Presented as part of the Fusebox Festival, the show at Waterloo Park will be the first live performance of MXTX. Attendance is free and open to the public, guests must reserve tickets online, available starting March 23.

This dynamic work is a collaboration of numerous Texas- and Mexico-based artists, including:
Golden Hornet, an Austin-based non-profit led by Graham Reynolds;
Orión García, founder of the Latinx DJ/producer/artist collective, Peligrosa;
Coka Treviño, art entrepreneur from Monterrey, Mexico and founder of the The Projecto;
Felipe Pérez Santiago, highly-acclaimed Mexico City composer, sound artist and current artist in residence at California's SETI Institute;
Ramón Amezcua "Bostich" of the groundbreaking Nortec Collective, based in Tijuana;
Rubén Albarrán, renowned vocalist and activist from Mexico City, lead singer of the legendary Cafe Tacvba;
Gabriela Ortiz, Latin Grammy nominated composer and recipient of Mexico's National Prize for Arts & Literature.
The album builds upon elements from the extensive audio sample library; deconstructed, reconstructed, and reinvisioned along with parts composed and arranged for chamber ensemble plus electronics. The collaborations included both DJ-producers and classically-trained composers who mixed and matched beats, drops, loops, melodic fragments and soundscapes along with live and acoustic instrumentation.