Moody Amphitheater at Waterloo Park, Austin's newest state-of-the-art outdoor venue in the heart of downtown, officially opened its doors in August 2021. With the launch of C3 Presents/Live Nation's Concert Series, we welcomed over 28,000 music fans this year!
"Waterloo Greenway's Moody Amphitheater is the venue Austin has been missing for many years. It's the perfect size for some of today's hottest touring acts, and with the beautiful urban downtown setting, it is one of the most special places to see live music in the country," said Charles Attal, Partner, C3 Presents.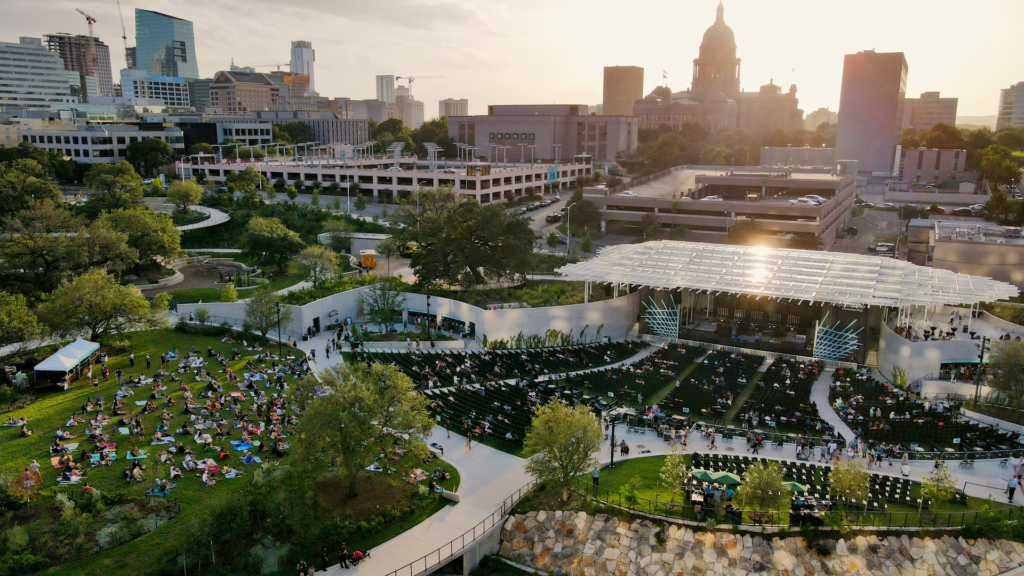 2021 Concert Season
We are looking back at the last few months of 2021, which brought a series of dynamic musical artists to Moody Amphitheater at Waterloo Park. We are proud to have been a part of the return of live music in Austin, TX.
September 28: 311 – Live From The Ride Tour with special guests Iration and Iya Terra
This show got rained out before 311 took the stage, but concert-goers got a chance to rock out with Iration and Iya Terra earlier in the evening!
Community Tickets
As part of Waterloo Greenway Conservancy's commitment to making the arts and outdoor space accessible to all, 100 free tickets to every concert were made available to our community through the Moody Amphitheater Concert Ticket Giveaway. This program was made possible through a unique partnership between Waterloo Greenway Conservancy, C3 Presents, and Live Nation. Waterloo Greenway distributed over 800 free tickets during the 2021 concert season!

We look forward to continuing our Concert Ticket Giveaway program in 2022. Entry forms open two weeks prior to each concert, and winners will be notified a week before the show. You can sign up for email updates here to be notified when you can enter to win tickets to future concerts.
Food & Beverage
Our first concert season was made even better with delicious eats at Waterloo Park! Our resident food truck, Burro Cheese Kitchen, served up its signature grilled cheese sandwiches at the Family Commons at Waterloo Park. Concert-goers stopped by before entering the venue to grab a bite and enjoy shaded seating on the Meredith Heritage Tree Deck. Burro Cheese operates daily – stop by during your next visit to Waterloo Park!

Chef Tim Love provided urban western-inspired snacks including grilled veggie burritos, nachos, and chopped brisket sandwiches at Moody Amphitheater concessions. Our friends at FBR Management handled all food and beverage concessions during concerts.
Premium Experiences
Premium Seat Holders experienced uniquely elevated amenities at Moody Amphitheater, including dedicated parking and an exclusive entrance to the venue. Our VIP Tito's Rooftop Terrace provided comfortable living room furnishings, a private bar, and bird's-eye views of the stage and surrounding downtown area. In our air-conditioned PNC Lounge, Premium Seat Holders could find private restrooms, another private bar, and more amenities. For more info on upgrading to VIP experiences in 2022, click here!
We want to sincerely thank our sponsors, touring artists, and YOU for being a part of our first concert season at Moody Amphitheater! We can't wait to welcome you back in 2022 at concerts such as Olivia Rodrigo – Sour Tour, Bon Iver, HAIM, Beach House – Once Twice Melody Tour, and many more to be announced. Sign up for our email list here and follow us on social media for the latest updates on new announcements and upcoming events!