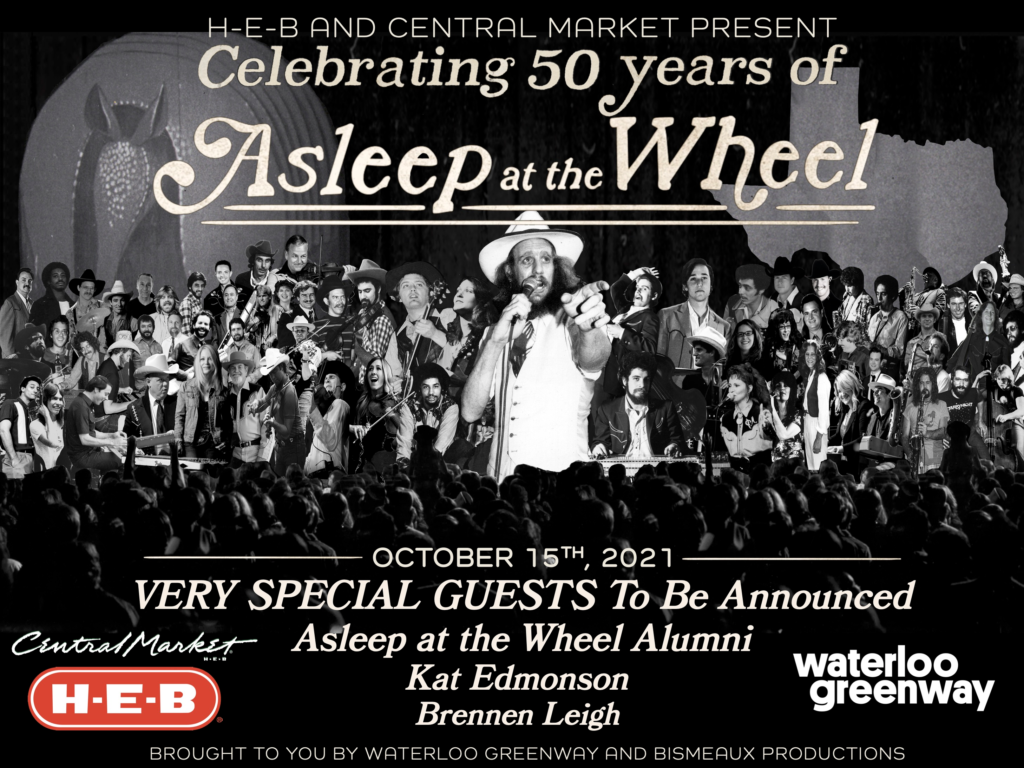 Central Market and H-E-B Present
'Celebrating 50 Years of Asleep at the Wheel'
Brought to you by Waterloo Greenway and Bismeaux Productions
Asleep at the Wheel has been an Austin staple for the past 50 years, ever since taping the very first episode of Austin City Limits. They have played a pivotal role in creating the cosmic cowboy movement and establishing Austin as the "Live Music Capital of the World".

Asleep at the Wheel will be celebrating their half-century-long career with a 3- hour performance featuring very, very special guests at the brand-new outdoor Moody Amphitheater at Waterloo Park on Friday, October 15th. The lineup includes original members and long-standing Asleep at the Wheel alumni, as well as Kat Edmonson, Brennen Leigh and more to be announced.

The Wheel will be celebrating the October 1st release of 'Half A Hundred Years,' a nineteen-track double LP featuring original AATW members recording together for the first time in over 40 years. A number of world-class friends of the band, including Willie Nelson, George Strait, Emmylou Harris, Lee Ann Womack, and Lyle Lovett appear throughout 'Half A Hundred Years' on a host of classic AATW and destined-to-be-classic brand-new tunes.

The highly-anticipated Waterloo Park and Moody Amphitheater recently opened to the public on August 14. As part of Waterloo Greenway's commitment to making the arts and outdoor space accessible to all, 100 free tickets for this concert and all future concerts at the amphitheater will be available to the community through an online ticket giveaway.
ABOUT ASLEEP AT THE WHEEL
Founded in 1970, Asleep at the Wheel has been part of the American roots music landscape for more than 50 years. Although the band got its start on a farm in Paw Paw, West Virginia, Asleep at the Wheel became a cornerstone of the Austin, Texas, scene upon its arrival in 1973. Inspired by Western swing and honky-tonk country, the band has accrued 10 Grammy Awards. In the fall, a career retrospective recorded with the current lineup and a few special guests will carry the band back onto the road, where they've remained a staple for five decades.
ABOUT WATERLOO GREENWAY CONSERVANCY
Waterloo Greenway Conservancy is a non-profit organization whose mission is to create and maintain an extraordinary urban park system and a restored Waller Creek, in partnership with the City of Austin, for the benefit of all. The Conservancy renews the natural environment, promotes play, health and wellness, economic vitality and mobility, and engages the community through outreach, education, cultural events, and the arts.