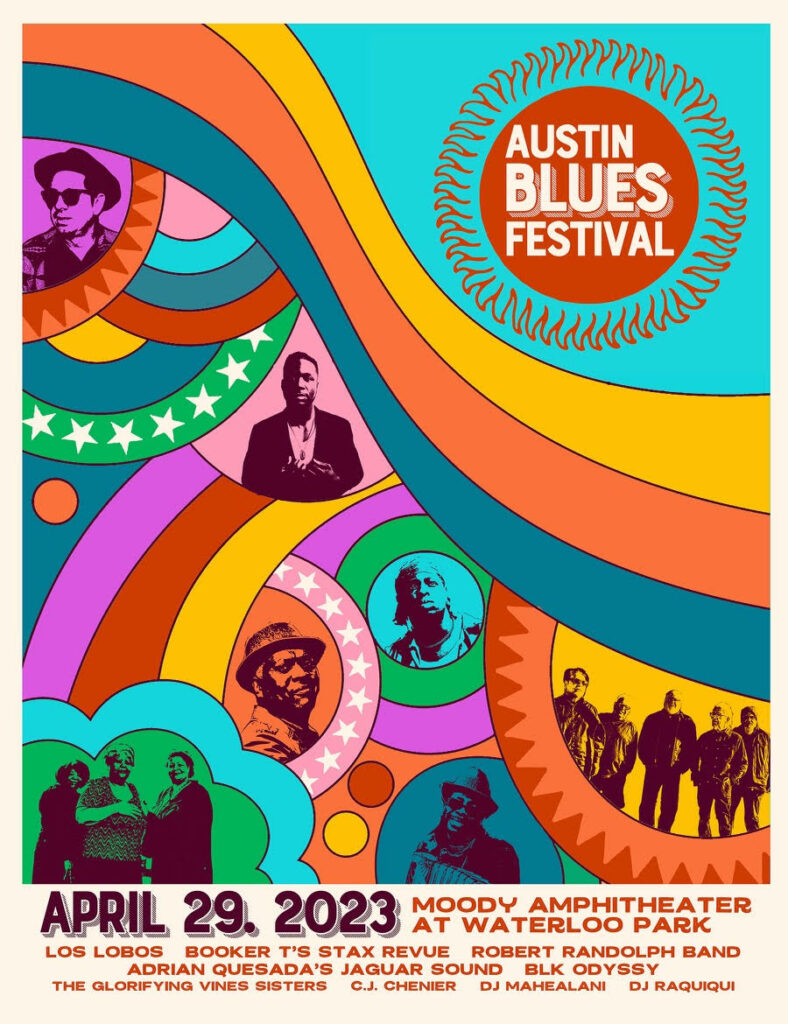 Austin, TX — December 12, 2022 – Antone's and Waterloo Greenway are proud to present the inaugural Austin Blues Festival, which will take place on April 29, 2023 at Moody Amphitheater at Waterloo Park.
The origins of the festival date back to 1999, when Clifford Antone hosted the first-ever Antone's Blues Festival at Waterloo Park as a way to showcase some of his favorite artists who were too large to play at his namesake downtown venue. The festival hosted the likes of Buddy Guy, John Lee Hooker, and Ray Charles during its three-year run.

Now, more than two decades later, Antone's and Waterloo Greenway are joining forces to bring blues back to Waterloo Park with an incredible lineup of national talent performing at the 5,000-seat Moody Amphitheater. Following the performances in the park, Antone's Nightclub will host an official aftershow featuring the Austin debut of Trouble No More (Brandon "Taz" Niederauer, Daniel Donato, Lamar Williams Jr., Nikki Glaspie, Roosevelt Collier, Dylan Niederauer, Peter Levin).
FESTIVAL LINEUP:
Los Lobos
Booker T's Stax Revue
Robert Randolph Band
Adrian Quesada's Jaguar Sound
BLK ODYSSY
The Glorifying Vines Sisters
C.J. Chenier & The Red Hot Louisiana Band
DJ Raquiqui and DJ Mahealani
"By bringing blues back to the park, we're paying homage to the original festivals my brother hosted here in the early 00s, and providing an opportunity for the next generation of blues lovers to experience world-class music at an incredible outdoor venue," said Susan Antone, sister of founder Clifford Antone. "We are excited to partner with Waterloo Greenway to present the first-ever Austin Blues Festival — and the first blues music festival at Moody Amphitheater."

Moody Amphitheater opened in August 2021 as part of the grand opening of the reimagined Waterloo Park. The venue was envisioned as a space where guests could enjoy live music surrounded by nature — while also being right in the middle of downtown. Since opening, the space has hosted dozens of community events, cultural festivals, and concerts, many of which are low-cost or free to the public.

"Our organizations share more than just a love of music — we share a deep passion for supporting the arts and serving the Austin community," said Jesús Aguirre, CEO of Waterloo Greenway. "We are thrilled to host the Austin Blues Festival in collaboration with Antone's Nightclub to continue Waterloo Park's tradition of live music and hope you'll join us in 2023 for what is sure to be an amazing lineup of performances."
Tickets go on sale Friday, December 16 at 10 a.m. CST and are available at Ticketmaster.com. Early bird pricing will be available for a limited time.
Support for Waterloo Greenway's festival programming is provided by Capital Reyes, LALO Tequila, PNC Bank and Tito's Handmade Vodka, with official medical provider Ascension Seton. For more information, please contact Angela Scimeca at ascimeca@waterloogreenway.org.
About Waterloo Greenway
Waterloo Greenway Conservancy is a non-profit organization whose mission is to create and maintain an extraordinary urban park system and a restored Waller Creek, in partnership with the City of Austin, for the benefit of all. The Conservancy renews the natural environment, promotes play, health and wellness, economic vitality and mobility, and engages the community through outreach, education, cultural events, and the arts.
About Antone's Nightclub
Established in 1975 by the late Clifford Antone, Antone's is an iconic blues venue located in downtown Austin. Over the past 40 years, Antone's has brought Austin a variety of blues and musicians from across the country including B.B. King, Muddy Waters, Jimmy Reed, Ray Charles, and James Brown, and helped develop local talent like Stevie Ray Vaughan, The Fabulous Thunderbirds, Bob Schneider, Gary Clark Jr., and others. In 2015, the historic brand was restored and a new team brought the iconic venue back to the downtown Austin landscape with a renewed focus on once again making Antone's the "Home of the Blues."