In celebration of Earth Day, we thought it'd be great to highlight the innovative, sustainable features that make Waterloo Park unique and recap some of the major construction milestones we've achieved this spring.
Waterloo Greenway is part of a larger movement to "Imagine Austin" as a greener, healthier city where nature and people thrive in Austin's Urban Watershed Desired Development Zone. An Austin Energy Green Building (AEGB) project (pending certification), Waterloo Park and its world-class amenities are being designed and built using environmentally friendly principles and practices. By creating a new way for people to navigate through downtown Austin, Waterloo Greenway will encourage our community to be less dependent on vehicles and ultimately help curb greenhouse gas emissions — one of the principal causes of climate change.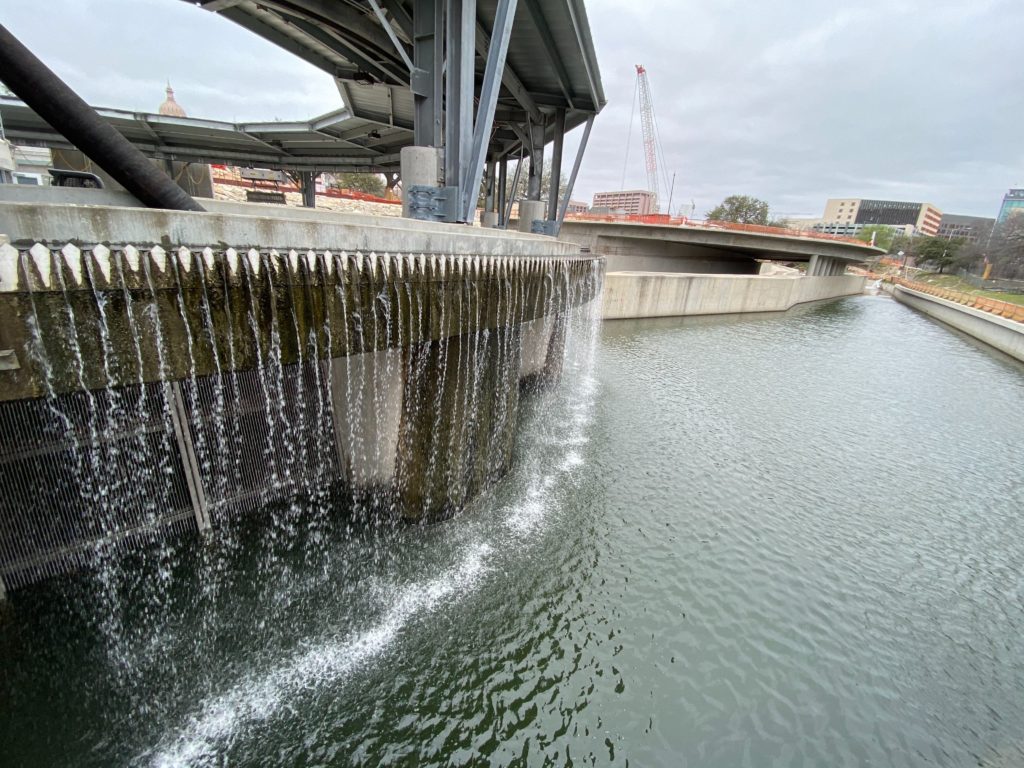 Conserving Water at Waterloo Park
Our city's water is a valuable resource — that's why Waterloo Park features on-site stormwater management right at the edge of the Moody Amphitheater stage. A cistern, or underground reservoir, will be used to capture rainwater and filter it through three rain gardens near the Waller Creek Tunnel Inlet Facility. Not only do rain gardens help protect Waller Creek's natural flow and water quality, they also filter out pollutants and help lower the risk of flooding and erosion.

By using the City of Austin's Reclaimed Water Service and high-efficiency fixtures, we will reduce our impact on Austin's water supply and energy use while reducing water consumption by over 90%. Using greywater systems at Waterloo Park will help save an estimated 500,000 gallons of potable water every year. Additionally, through the City of Austin's agreement with LRCA, water pumped from Lady Bird Lake via the Waller Creek Tunnel will be used for irrigation at Waterloo Park.
Achieving Construction Milestones
Shoring towers, the temporary structures that serve to transfer loads during various stages of construction, have been removed from the Moody Amphitheater canopy. Now that they're gone, the Moody Amphitheater canopy — made up of 5 miles of steel — is fully standing on its own for the first time. You can truly visualize the floating "steel cloud" design by Thomas Phifer and Partners.

In the southwestern section of the park, stonework continues and the beginnings of park benches, sidewalks, and pathways can be seen. Tucked inside the Family Pavilion, the amenity building designed by Michael Hsu Office of Architecture that includes public restrooms and sinks as well as park operations storage has taken shape. The building's formwork — temporary moulds into which the concrete is poured — has been removed and the walls and roof are now complete.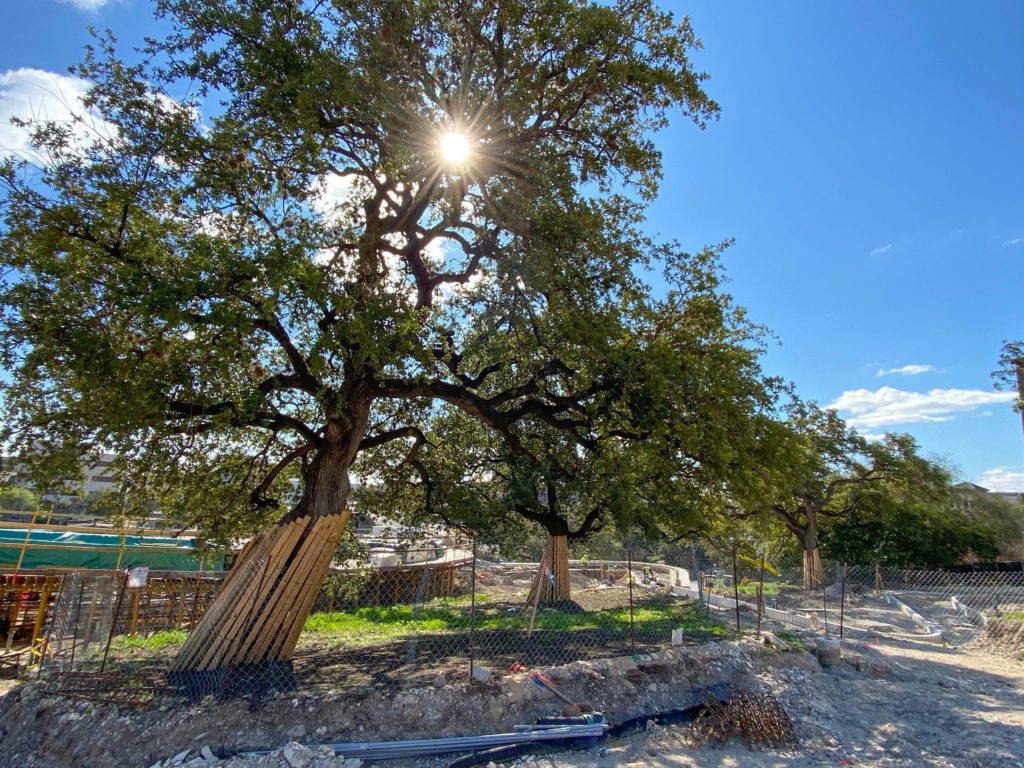 Putting the Green in Greenway
What's a park without greenery? 500 trees will be planted at Waterloo Park, including the relocation of several heritage trees from The University of Texas at Austin and the Texas Capitol Complex. Plus, Waterloo Park will welcome more than 60,000 plants (170 species) by the time construction is complete. Come opening day, Waterloo Park will be home to 1.5 miles of hike-and-bike trails, stunning Hill Country gardens, imaginative playscapes, and so much more. The design of Waterloo Park incorporates diverse native and adapted plants, increasing natural biodiversity and providing habitat for pollinators. A part of the Moody Amphitheater will have a green roof, providing new opportunities for plants and wildlife to thrive at Waterloo Park.

Learn more about Waterloo Park sustainability features in our Waterloo-In-Place Virtual Tour this Earth Day, April 22, with WG Capital Projects Manager Michelle Bright and Project Manager at City of Austin Parks and Recreation Department Lisa Storer. RSVP to receive the video conference details here. If you can't make it, full recordings of the tours will be posted at waterloogreenway.org and all of our social media channels the following day.
---
Get a closer look at Waterloo Park construction progress in the photo galleries below!
Shoring towers supporting the Moody Amphitheater canopy have been removed and it is now standing on its own.
The Family Pavilion amenity building designed by Michael Hsu Office of Architecture.
The beginnings of park benches in the Johnson Family Hill Country Garden at Waterloo Park.
Stonework continues in the southwest corner of Waterloo Park along the Suzanne Deal Booth Skywalk.