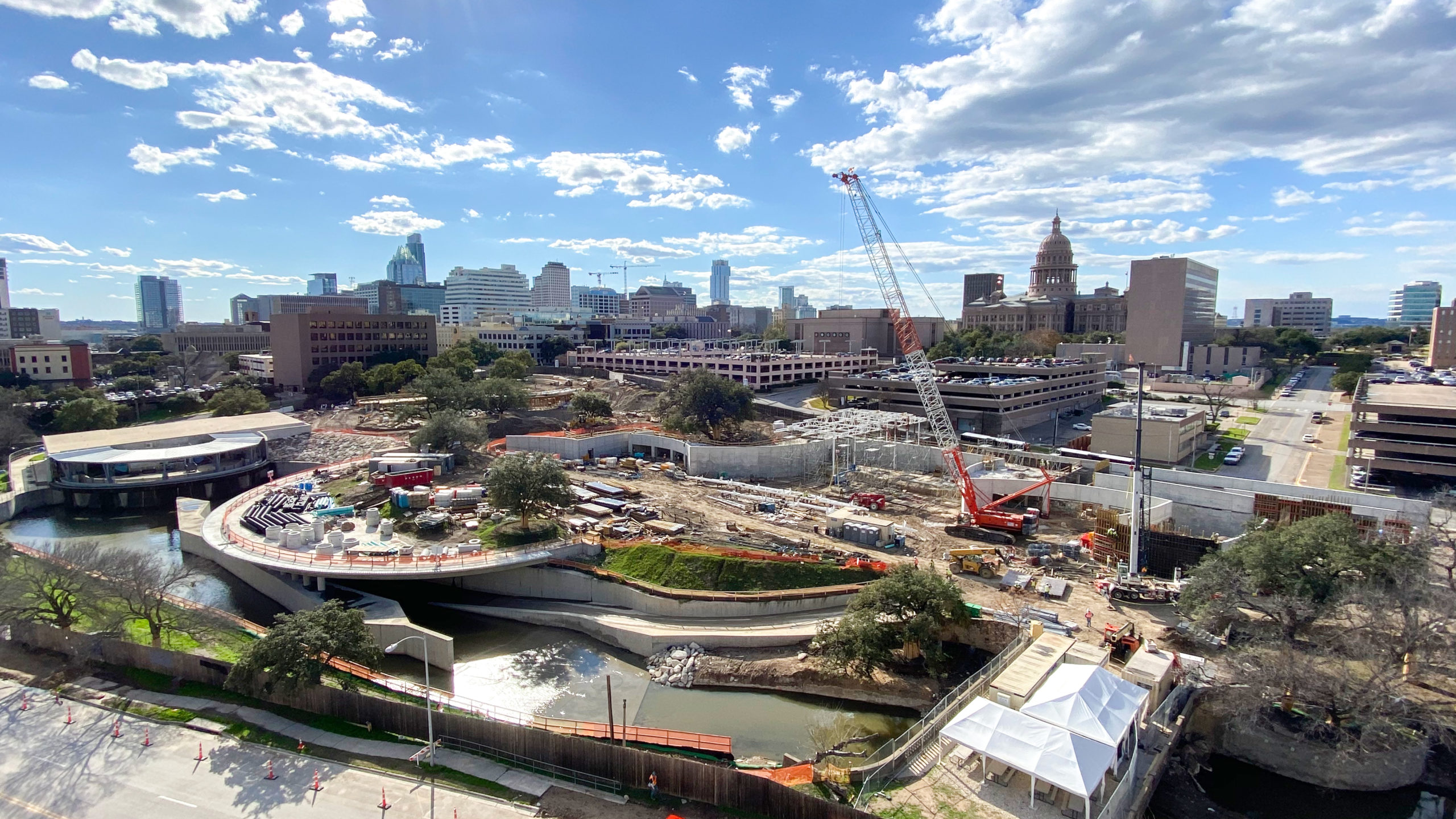 Moody Amphitheater
Under Construction | Opens August 2021
Every day, we get one step closer to unveiling a revitalized Waterloo Park in the heart of downtown Austin. This 11-acre green space, between 12th and 15th Streets and along Red River and Trinity Streets, will soon be home to more than a mile of tree-lined hike-and-bike trails, stunning Hill Country gardens, imaginative playscapes, and the 5,000-person-capacity Moody Amphitheater.

The massive roof that's currently being constructed over the Moody Amphitheater stage—often referred to as the venue's "canopy"—is comprised of 16 layers of steel, aluminum, and glass. In the coming weeks, our Dripping Springs-based fabricator and erector, Patriot Erectors, will be mounting the steel trusses that support the stage's canopy.

A series of nine custom-built steel trusses will be anchored over the venue facing east to west. Once complete, six additional trusses will be welded to intersect with the initial structure from north to south. After that, hundreds of steel pieces will then be added to fill the gaps in between the trusses, creating even smaller gaps within the structure. Inspired by the art of Agnes Martin, the venue's canopy will mimic the shade canopies of nature and cast rippling, tree-like shadows onto the ground beneath it.

One of the intents behind Thomas Phifer and Partners' Moody Amphitheater design was to make it look as if the canopy is floating over the stage like a "steel cloud." It will have dozens of thin, white columns supporting the structure rather than having fewer, large beams to support it. Soon, the venue's canopy will be a striking, meet-me-there gathering spot that extends over the Trinity Street sidewalk and invites Austinites and visitors to explore Waterloo Park.

What sets the Moody Amphitheater apart from other entertainment venues in Austin is that it's being designed and built directly into the landscape of Waterloo Park. Unlike most outdoor performance spaces, the general public will be able to access the stage when it is not being used for concerts and other forms of live entertainment. The venue's one-of-a-kind infrastructure was intentionally designed to support large-scale productions, but can easily revert back to park space for all to enjoy.

Stay tuned for more construction updates leading up to the opening of Waterloo Park!

Click here to learn more about Waterloo Greenway's wild array of natural and cultural destinations. 
Renderings by Thomas Phifer and Partners.
"The Moody Amphitheater is going to be one of the most notable and striking pieces of architecture in downtown Austin. It is a bold architectural statement that will be seen from the street, from the park—from everywhere."

John Rigdon, Waterloo Greenway Director of Planning & Design