Friday Flicks – Spider-Man: No Way Home
Presented in partnership with Austin Parks Foundation & Alamo Drafthouse Cinema
Celebrate Austin's Neighborhood Heroes at our free screening of Spider-Man: No Way Home!
Neighborhood heroes are rising up in our communities every day and rising to meet the unique challenges before them.

Visitors are encouraged to come to the park dressed as their favorite hero! Enter our costume contest for a chance to win a private screening for up to (20) people courtesy of Alamo Drafthouse!

Costumes can be for a new superhero or existing superhero, including one of Austin's friendly neighborhood heroes – police officers, firefighters, doctors, nurses, teachers, or even your next door neighbor!
Enjoy family-friendly activities, live music, contests, popcorn, candy, and drinks!
7:00 PM – Doors
7:30 PM – Live Music by DJ Mahealani
Sunset – Movie Begins
Family-Friendly Activities
Austin Parks Foundation
Austin Police Department
Austin Fire Department
Austin Public Health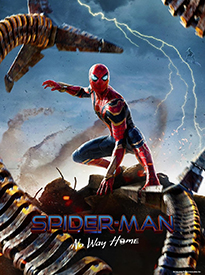 Spider-Man: No Way Home Synopsis
Peter Parker is now unmasked, his identity as Spider-Man known to the world. In a way, he likes it that his girl MJ knows his true identity, the same with his best friend Ned and Aunt May. However, problems follow this reveal. Thus, Peter approaches Doctor Strange to help him resolve the situation by performing a specific time-altering ritual. But that also bears some unintended and problematic consequences.
Rating – PG-13 | Runtime – 150 minutes