Thank you for coming out to support our 6th Annual Creek Show. We were delighted to see tens of thousands of people experiencing the magic of Waterloo Greenway and exploring the Red River Cultural District throughout our 11-night event.

Since 2014, we've commissioned local artists to create site-specific, light-based art installations to help raise awareness about the ongoing transformation of Waller Creek and the new 35-acre urban park system, known as Waterloo Greenway, coming to downtown Austin.

This year was our biggest and brightest Creek Show yet. In addition to seven original art installations, Creek Show delighted visitors with live music, an assortment of family-friendly activities by Thinkery and MadScience in the H-E-B Family Zone, and even more festivities in the Creek Show backYARD at the Sheraton Austin Hotel at the Capitol.

In the BBVA Creek Show Lounge, guests had the opportunity to learn more about Waterloo Greenway, check out a model of Waterloo Park (set to open next fall), shop exclusive merch, and snap a photo in the CapMetro Photo Booth!

At our Creek Show Artist Talk, moderated by local artist Moyo Oyelola, attendees got to learn about the inspirations and processes behind this year's stunning Creek Show installations.
Special thanks to the teams of local artists, landscape architects, and designers who worked tirelessly to bring Creek Show to life: 1909B, Design Workshop, Nelsen Partners, Norma + Sunny, frankev, Boka Powell, and Texas Applied Arts.

Learn more about the Creek Show 2019 art installations here.
Artist Q&A
What do you hope people will take away from your installation?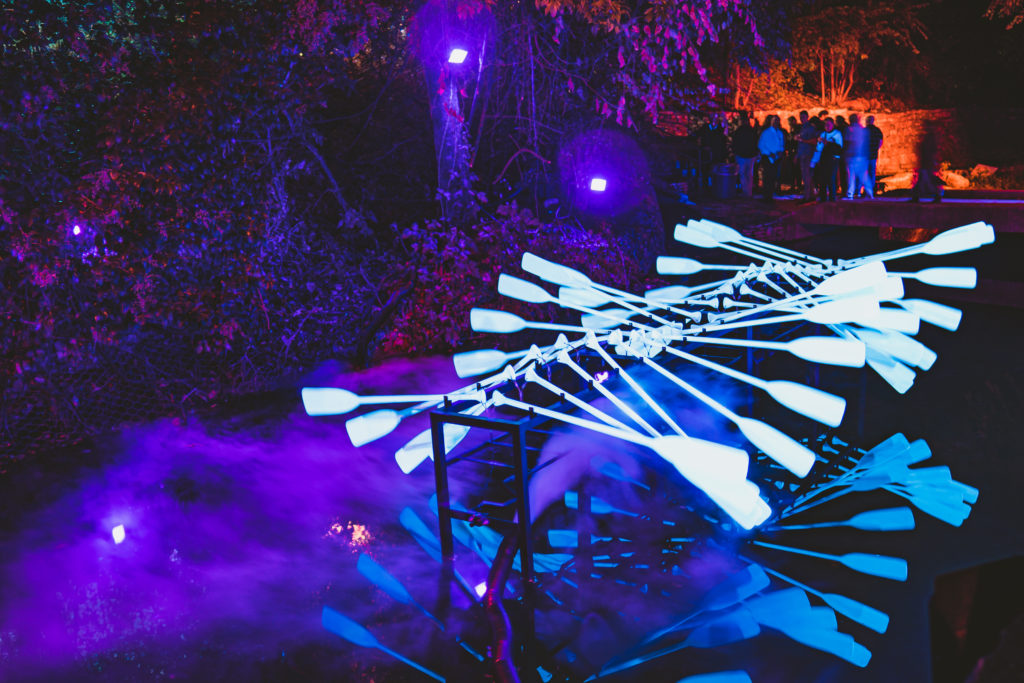 "Water is such an important part of what makes Austin a great place to live and we wanted to remind people that, even though you need a ghost boat to paddle down Waller Creek, it is still a vital and beautiful part of our city.

We hope that this event and our installation inspires people to stay engaged in the development of Waterloo Greenway and appreciate the natural resources all around us!"

Lindsay Abati, AIA, Nelsen Partners
What's one thing you want people to know about your art installation?
"We built everything ourselves without the aid of any professional fabricators. Our team is an eclectic mix of architects, designers, and engineers so having the opportunity to build the installation from the ground up was an exciting challenge.

We did everything from teaching ourselves to weld, to soldering an absurd number of wiring connections, to building the computer which controls the lights, to writing the code which generates their evolving patterns."

Mitch Flora, 1909B
Thank you to our Creek Show 2019 sponsors!
Creek Show Lounge Sponsor
BBVA

Family Zone Sponsor
H-E-B

Bar Sponsor
Tito's Handmade Vodka

Stage Sponsor
DPR Construction

Title Sponsors
Applied Materials Foundation, City of Austin Cultural Arts Division

Photo Booth and Transportation Sponsor
CapMetro

Installation Sponsors
Aurora – Tyndall at Robertson Hill
Downstream Upcycle – Trousdale Ventures
The Ghost Boat – The Powell Foundation
Light House – Sugar Creek Foundation
m e a n d e r – 3M Foundation
String Theory – Waterloo Greenway Board of Directors 2019

Gigawatt Sponsors
Clean Scapes, Easy Tiger, Patriot Erectors, Sheraton Austin at the Capitol, Waterloo Sparkling Water, Weinheimer Wealth Management

Megawatt Sponsors
Saint Bernard, Austin Fine Properties

Kilowatt Sponsors
Henna Chevrolet, Austin Outdoor Design

Media Sponsors
Do512 & Do512 Family
Special thanks to the selection committee: Meredith Bossin, Louis Grachos, Chris Mattsson, Carla Nickerson, Ingrid Spencer, Daniel Woodroffe, and Herlinda Zamora.

Slideshow photo credits: Daniel Solano, Roger Ho, and Karen Alicia Wells.