We did it, Austin! After many years in the making, the construction fence surrounding Waterloo Park has come down and the 11 acres are yours once again — Waterloo Park and Moody Amphitheater are now open to the public!
Thank you to everyone in the community who came out to celebrate the reopening of Waterloo Park on Saturday. It was a momentous occasion for Waterloo Greenway and our community, one that would not have been possible without the immense support of countless individuals who have helped bring our mission and vision to fruition.

While we didn't get to commemorate the occasion with the CommUNITY Day festival we had planned, Austinites and visitors alike still eagerly came out to experience the newly revamped greenspace. Dozens of Waterloo Greenway staff and park ambassadors from the Downtown Austin Alliance greeted guests as they walked, biked, and wandered around the park. Tables were set up on the Moody Amphitheater stage where we talked to community members about Waterloo Greenway and handed out free WG merchandise like water bottles, koozies, stickers, fans, and bandanas. Visitors also snapped photos in the many picturesque places in Waterloo Park and at our giant photo frame atop Luci & Ian's Family Hill Country Garden.

It was a very hot summer day, but park goers stayed cool and hydrated with complimentary Richard's Rainwater and Rambler Sparkling Water at Moody Amphitheater concessions. Plus, people got to savor the flavors of our new resident food trucks, Burro Cheese Kitchen and Taco Baby, in the Family Commons at Waterloo Park.
"It was fantastic to see hundreds of folks exploring Waterloo Park on Saturday. People were truly embracing all that this new public greenspace has to offer — resting and picnicking under live oak shade trees, children laughing, climbing, and sliding in the playscape, bikes cruising the skywalk trail and people enjoying the Moody Amphitheater stage, where sold-out concerts and community events will soon take place," says Waterloo Greenway Interim CEO Kathy Miller. "We were pleased to see how delighted Austinites were to discover this newly restored natural oasis in the heart of downtown Austin. It's wonderful to see Waterloo Park come to life again."

The opening of Waterloo Park and Moody Amphitheater mark the beginning of a new chapter for Waterloo Greenway Conservancy. Construction on the next phase of the Waterloo Greenway project, Creek Delta, begins in 2022, representing the next step toward completing the entire 35-acre park system that will stretch from 15th Street at Waterloo Park to Lady Bird Lake, along a revitalized Waller Creek.
Visit waterloogreenway.org to learn more and plan your next visit to Waterloo Park. We look forward to seeing you there!
Slideshow photos by Lauren Slusher
Video by Jesus Garcia, Ancho Media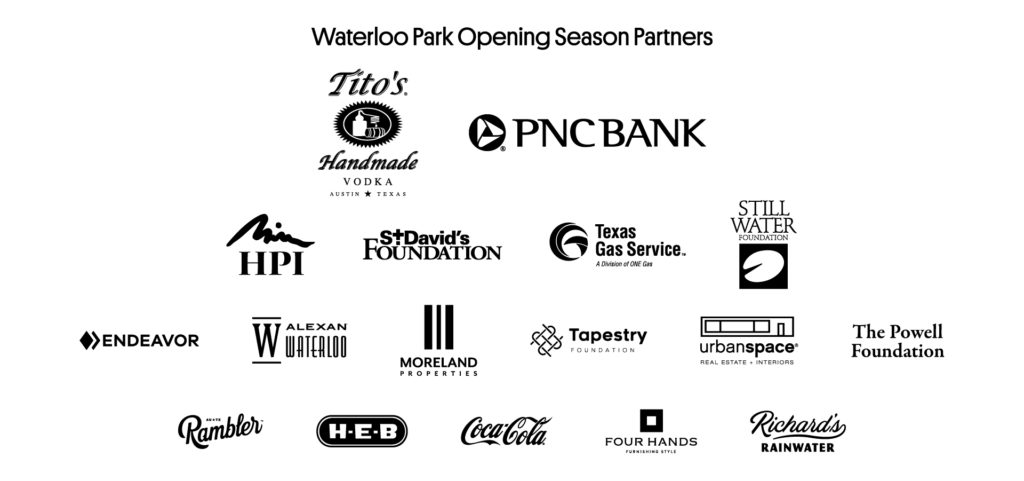 ---

We're grateful to the thousands of members of our community who provided critical financial support to create this vibrant green space. This park is a testament to our collective commitment to the environment, to culture and to each other.
Waterloo Greenway lead financial support provided by:
Moody Foundation
C3 Presents & Live Nation
Mattsson-McHale Foundation
Susan & Gary Farmer
The Manchester Family
The Meredith Family
PNC Bank
Kitty King Powell
Adria & Brian Sheth
Still Water Foundation
Charles Attal & Amy Corbin
Suzanne Deal Booth
Colin Corgan
Rosemary & Russell Douglass
The Hartman Family
Brenda & Jonny Jones
The Lebermann Foundation
Love, Tito's
Melba & Ted Whatley
Winkler Family Foundation
Downtown Austin Alliance
Luci Baines Johnson & Ian Turpin Family
Jeanne & Michael Klein
Texas Parks & Wildlife Department
Janet & Wilson Allen
Buena Vista Foundation
Paula & Kevin Burns
Marian & Chris Casey
Deb & Rex Gore
Stacy & Joel Hock
Carolyn & Jack Long
Meinig Family Foundation
Sugar Creek Foundation
Wells Fargo
Alice Kleberg Reynolds Foundation
Melanie Barnes
Carol & Charles Barnett
Laura & Kyndel Bennett
The Laura & Steve Beuerlein Family
Carmel & Tom Borders
The Brown Foundation, Inc.
Maya Browne & Laurence Pels
The Cline Family
Paul J. D'Arcy
Eloise & John Paul DeJoria
The EGF Charitable Fund
Endeavor Real Estate Group
Lea Ann & Steve Fowler
Caroline & Brian Haley
Heritage Title Company of Austin, Inc.
HPI Real Estate Services & Investments
Carolyn Lewis
Jeanne & Lew Little, Jr.
Sheridan & Perry Lorenz
Lorena & Eddie Margain
The Powell Foundation
Pam & Michael Reese
Reid Collins & Tsai LLP
RGK Foundation
Edie Rogat & Cotter Cunningham
Elizabeth & Rob Rogers
Magdalena M. Rood & Leslie M. Moore
Eddie Safady
Shield-Ayres Foundation
Irene & Alexander Shoghi
Meghan & Chris Slover
Spong-Blakeslee Family
Susan Vaughan Foundation
SXSW
Hannah Temple & Christopher Sanders
Tom Terkel
Texas Gas Service
Colleen & Frank Trabold
Helen & Sandy Watkins
Sandra & Walter Wilkie
3M Foundation
The Applied Materials Foundation
AT&T
Austin Community Foundation
Austin Parks Foundation
The Avey Family
Marie Crane
Danna & Crutch Crutchfield
dwg.
Sue Edwards & David Bodenman
Jamie & Jeff Foster
Frost Bank
Gallogly Family Foundation
Quen & Jesús Garza
Lisa & Sandy Gottesman
Deborah Green & Clayton Aynesworth
Marian P. Harrison
Highland Resources, Inc.
Dinah & Tim LaFrey
Ben Lamm
Douglas W. Manchester
Susan & Richard Marcus
The Meadows Foundation
Lauren & Tom Moorman
Melanie & Peter Mullan
Pat Munday
Evie & Cash Nickerson
Notley
Nancy & Mark Pollard
The Joe Ross Family
Frank D. Schubert & Greg Fedro
Betsy & Paul Shiverick
Snacks Family Fund
St. David's Foundation
T.L.L. Temple Foundation
Chad Taylor
The Wilson & Albright Families
Mary & Howard Yancy Family
Sarah & Jeff Zeigler
Mayor Steve Adler & Diane Land
Alexan Waterloo
America Alva & Bryan Z. Rubio
Theresa & Raul Alvarez
Bank of America
Sinclair Black, FAIA
David Booth
Brown Advisory
CapMetro Cares
Casareno-Reibling Foundation
Jamie & Blake Chandlee
Amy & John Chronis
The Cynthia & George Mitchell Foundation
Deloitte
Cissie & Dillon Ferguson
Amanda Foster, Alexandra & Merritt Beck
Brian Grigsby
H-E-B
Tracey & David Hime
Kendra & Scott Irvine
Jackson Walker
Sarah & Stuart Kime
Laura & Kevin Larson
Kathleen & Christopher Loughlin
Marinelli Family
Moreland Properties
The Nazro & Friske Families
Deborah & Larry Peel
John Pesce
Maryellen & Patrick Quarles
Rambler Sparkling Water
Misty & Bill Reid
The Ricks Family
Patti & Michael Rogers Family
Sackman Enterprises
Phillip Sarofim
Nancy Wilson Scanlan
Martha E. Smiley
Paula & Ken Smith
The Stanich Naranjo Family
Gail & Rodney Susholtz
John Teinert & Chris Pellegrino
Margot & Grant Thomas
Amy & Jerry Webberman
Monica & Andrew Weinberg