In 2022-2023, Waterloo Greenway was the recipient of two grants from the City of Austin Urban Forest Grant Program to educate the public about and care for the trees in Waterloo Park.
These funds are bringing a new focus on the tree canopy in Waterloo Park. With their help, Waterloo Greenway was able to create new informational materials for park visitors and fund routine tree care in Waterloo Park to keep our over 500 trees healthy through the changing seasons.
The Urban Forestry Grant program has provided Waterloo Greenway with the funds for three new interpretative tree signs in Waterloo Park. We are so excited that the public can now visit Waterloo Park at any time and learn something new about the unseen story of the park – the trees. The first sign is dedicated to the one-of-a-kind tree support system that was installed to support our largest heritage tree on the Meredith Heritage Tree Deck. The second focuses on the incredible feat of transplanting eight heritage trees to Waterloo Park and the third highlights the 30 tree species in the park with a scavenger hunt. For a park that has always prioritized the landscape as a feature and not a backdrop, it is important to us that we can invite our visitors to look up and share our curiosity.
Also with these funds, in partnership with Families in Nature, Waterloo Greenway developed and printed our new Ecologist Pocket Guide and Nature Journals to use at our Waterloo Green Days Earth Day Festival, Wild Wednesdays weekly program series, and monthly Tales on the Trail guided tours. These interactive workbooks invite our visitors of all ages to take a closer look at the flourishing ecosystems happening all around us. It's crucial to us to have tools that can meet children where they're at and let their creativity take the lead. Park visitors can also access the digital version of the guides through QR codes placed around the Meredith Heritage Tree Deck.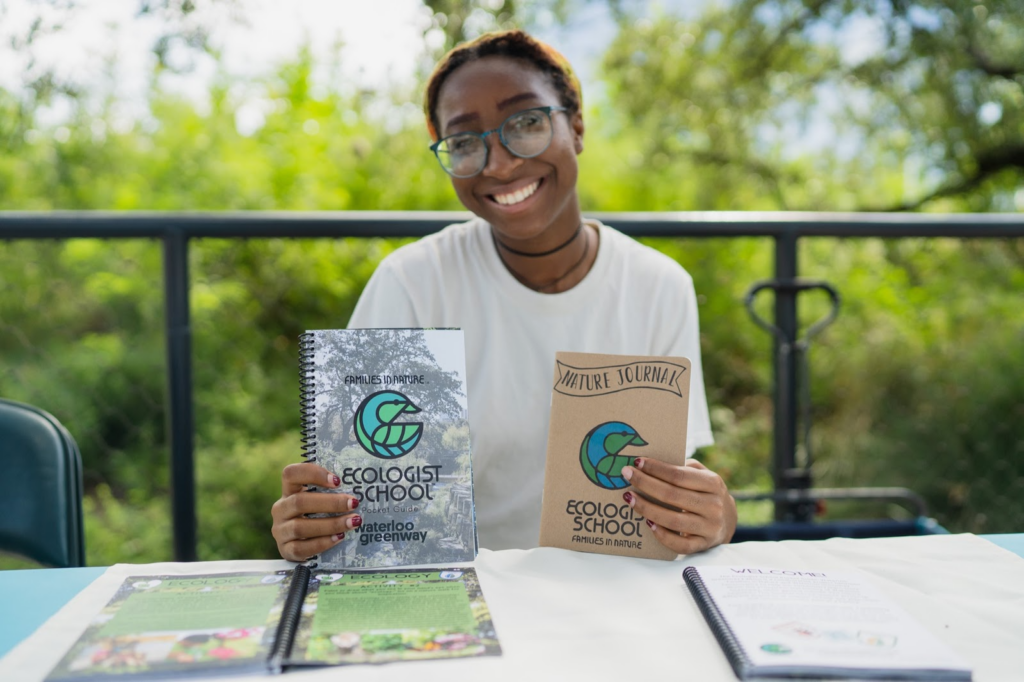 This grant helps us tell the story of the natural world behind Waterloo Park and bring the foliage to the forefront of the downtown experience. We are exceptionally excited for the direct funds to cover tree care in Waterloo Park. After all, in a sunny city like Austin, the shade-providing giants elevate the park-user experiences. In fact, because of these funds Waterloo Greenway was able to complete proactive maintenance, pruning, and clearing earlier than ever to make sure every towering limb made it through the Winter. When Austin saw over 10 million trees damaged in the January 2023 winter storm, Waterloo Park trees stayed strong. We are grateful to continue getting to use best practice tree care methods in Waterloo Park to promote a more robust tree canopy downtown.
Thank you again to the City of Austin Development Services Department for your commitment to Austin's urban forestry and Waterloo Park. We welcome everyone to come check out our new interpretative tree signage and Nature Journals, attend a free environmental education event, or just come take a stroll and experience all the green Waterloo Park has to offer! For more information about how to apply for the City of Austin Urban Forest Grant Program visit https://www.austintexas.gov/page/urban-forest-grant.