We believe Waller Creek can do far more than exist in the intensifying urban core of our city — it can flourish. But only with the support and expertise of our numerous partners.
It takes a village to bring Waterloo Greenway to life and renew the ecology of Waller Creek from 15th Street to Lady Bird Lake in downtown Austin. At the northern end of Waterloo Park, creek restoration continues thanks to a collaborative effort between the City of Austin's Watershed Protection Department (WPD), Parks and Recreation Department, and us, the Waterloo Greenway Conservancy.
Designed by Michael Van Valkenburgh and Associates, Inc. and constructed by DPR Construction, the Waller Creek restoration project is essential in helping us fulfill our organization's mission of bringing people closer to nature and transforming Waterloo Greenway into a 35-acre park bound together by a resilient, rejuvenated creek.

"I am looking forward to seeing the revitalization of the Waterloo Greenway district from what it is today to a destination point for people of all walks of life to enjoy," says Susan Kenzle, WPD Landscape Architect and Project Manager. "I'm eager to see the transformation of a neglected waterway into a healthy, thriving ecosystem full of birds, turtles, and various plants."
---

Established in 1991, WPD manages the city's creeks, drainage systems, and water quality programs. WPD protects the lives, property, and environment of our community by reducing the impact of flood, erosion, and water pollution in every watershed across Austin. Waller Creek has among the highest-ranked water quality and erosion problems in Austin. This high ranking is something that WPD is seeking to change and the beginning of that evolution is taking place at Waterloo Park.

"This is a groundbreaking effort — a model of what can be accomplished with private-public sector collaboration — that will have a significant impact on the urban environment of downtown Austin in terms of its contribution to the ecology, and in providing more greenspace for our community," says Kenzle.

We can't wait to invite the public to explore the reimagined Waterloo Park and its radiantly restored creek this summer. With 11 acres of greenspace, 1.5 miles of trails, Hill Country Gardens, and so much more to explore, Waterloo Park will soon become a natural haven for Austin residents to enjoy the outdoors, gather with friends, and build community.
---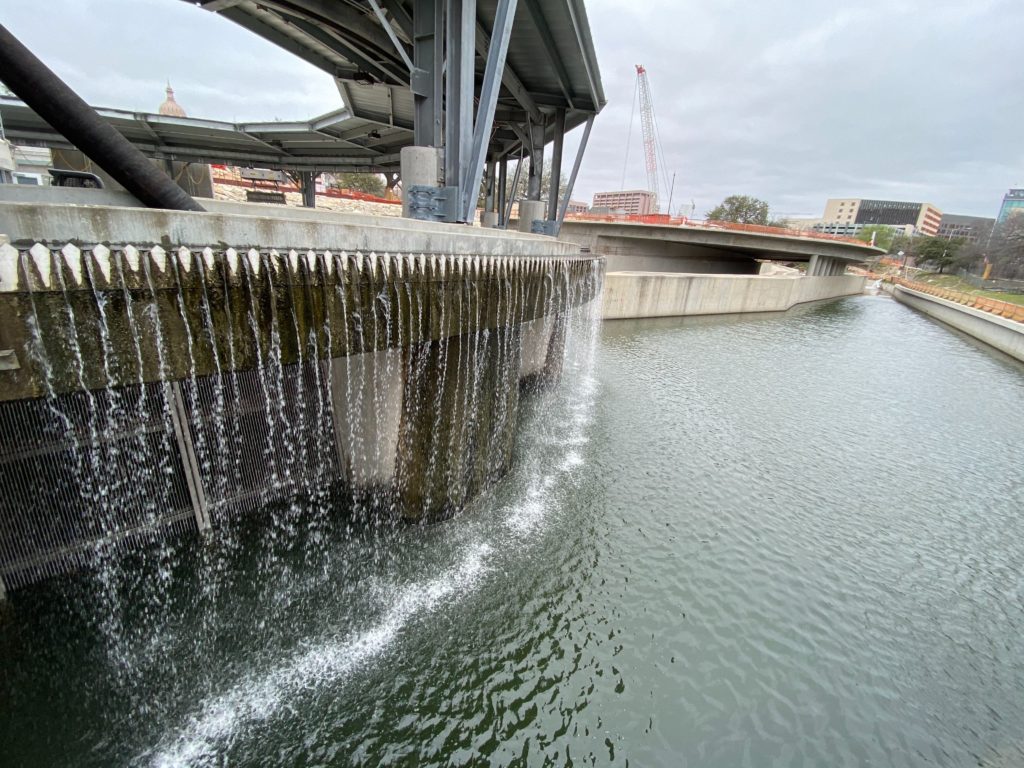 ---
Take a closer look at how we're reconstructing and restoring Waller Creek
Waterloo Greenway includes thoughtful creekside landscapes that "take a leaf" out of nature's playbook. Natural landscapes and native plantings stabilize slopes, absorb heavy rainfall, and create a healthier habitat for wildlife. As they grow, these green spaces will bring nature back into the heart of the city for everyone to enjoy.

Creek restoration efforts at Waterloo Park are part of a larger vision to restore and protect the entirety of the flood-prone lower Waller Creek watershed.