Thank you to all who celebrated Pride in the Park with us from June 5-10, 2023!
At Waterloo Greenway, we're proud to be a welcoming, inclusive public space that's home to a wild array of free events that connect and celebrate Austin's LGBTQIA+ community all year round. We'd like to thank all of our incredible community partners, performers, musicians, drag queens, and generous sponsors who helped make our Pride in the Park events possible.

In case you missed out on the fun, you can check out our recap video and photos from all of our Pride events below! Plus, take part in our free Dog Days of Summer events coming up this July-August.
Tales on the Trail: The Intersectionality of LGBTQIA+ and Black Identities
On Thursday, June 8, 2023, community members gathered at Moody Amphitheater to join a discussion about the intersectionality of LGBTQIA+ and Black identities.

Special thanks to our moderator Aira Juliet (Host, Black & Queer AF) and panelists Raasin McIntosh (Downtown Austin Alliance), Anthony Hubbard (Heyoncé The Vocalist), and Nico Ramsey (ECPR Texas).

Thank you to our community partners at Dorothy's ATX, Kind Clinic, and Tito's Handmade Vodka for tabling at the event!
Photos by Suzanne Cordeiro
---
Pride is for Families
Presented by Richard's Rainwater
On Saturday, June 10, 2023, hundreds of families gathered at Waterloo Park to explore a variety of hands-on art and cultural learning activities including drag queen storytime, DIY Pride Flags, 'Taste the Colors of the Rainbow' with Mom & Pops All Natural Frozen Pops, Pride Family Portraits, and a Pride Parade in Waterloo Park led by Dance Walking ATX.
Photos by Ryan Vestil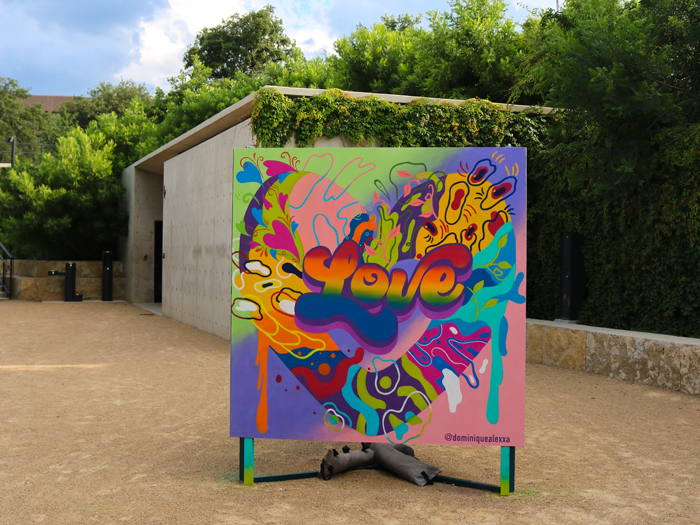 Special thanks to all of our amazing community partners and vendors: AISD Pride, APD, Austin Allies, Austin Discovery School, Austin Pride, Austin Public Library, Central Texas Facepainting, ChrysalisQ, Creative Action, Dance Waterloo, Dorothy's Cafe, Equality Texas, Genuine Joe Coffee House, Little Gay Shop, OutYouth, Rainbow Connections ATX, and Read the Room.
---
Rainbow on the Creek
Presented by Austin Subaru & LALO Tequila
On Saturday, June 10, 2023, thousands of community members gathered at Moody Amphitheater at Waterloo Park to celebrate Pride Month with Austin's favorite LGBTQIA+ performers!

Thank you to our incredible group of local DJs, drag queens, and musicians who made Rainbow on the Creek possible: Papi Siii! featuring DJ Gabby Got It and Eriq Stylez, Miguel St. Michael, Mama Duke, Erica Nix, She23, Majesty, and Vertarias, Vylette Ward, Alexander the Great, Celia Light, Eileen Dover, Kendoll Golightly, Lawrie Bird, Maxine LaQueene, Monica Monae Davenport, Natalie Hole, Nazareth, and The House of Lepore.

Special thanks to our community partners & vendors: aGLIFF, Allstate, APD, Austin Chronicle, Austin Pride, Austin Public Health, Austin Roller Derby, Central Texas Face Painting, Coca-Cola, Keep Austin Beautiful, Kind Clinic, Little Gay Shop, Loma Vista, Pride Socks, Rainbow Connection, Ride Bikes Austin, and more!
Photos by Suzanne Cordeiro
---
Exercise Your Pride
Presented in Partnership with Castle Hill Fitness
Thank you to all who participated in our LGBTQ-friendly health & wellness event series at Waterloo Park on June 5, 6, 7, and 11! Special thanks to Castle Hill Fitness, Erica Nix, Rocky Time, Go Dance Studio, and Audishores for leading these free, fun classes for the community!