What better way to celebrate International Women's Day and Women's History Month than to feature the great Women of Waterloo Greenway whose immeasurable impacts have helped shape our park and organization throughout the years.

Through the month of March, we'll be updating this post with messages from the women who work tirelessly to further our organization's mission and help bring Waterloo Greenway to life.
"Year-round, I often find myself reflecting on one of my favorite quotes: "A candle loses nothing by lighting another candle." For most of my adult life, I have dedicated time and energy towards putting that quote into action both personally and professionally.

Waterloo Greenway has provided me with the opportunity to work on a community initiative that is transforming the future of Austin. It seems appropriate that during Women's History Month, we recognize the women who support Waterloo Greenway and how much we give of ourselves to uplift friends, family, and community assets in ways both large and small."
Erica Saenz
Waterloo Greenway COO
"Happy International Women's Day! Waterloo Park is alluring and we look forward to the enjoyment that it will provide the Austin community. 

According to Ntozake Shange, "Where there is a woman, there is magic." Waterloo Greenway is a magical place to work with frequent interactions with notable women on our Board, within the organization, and partners. We celebrate women leadership, innovation, entrepreneurship, and motherhood – locally, nationally & internationally."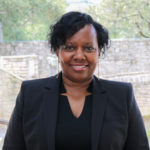 Delores Lenzy-Jones
Waterloo Greenway Chief Financial Officer
"Waterloo Greenway has been the work and joy of a lifetime!  Each of us is lucky if we find an opportunity to leverage our experience, relationships, and leadership ability to bring such a tangible and permanent change to the city we love.  
This project has two women among the three founders.  I believe it is an ideal environment for female direction, as it has been a very collaborative endeavor.  I have had so many moments over the years in this work to be thrilled and humbled by the talents of women in our board leadership and staff and within the City of Austin, our design team, and other key partners.   
There remains much to be done to bring the entire Waterloo Greenway design to life, including execution of the balance of the construction. Even more crucial will be continuing to deliver on the promise of equity and inclusion in every aspect of our programming and operations. I believe the foundation we have laid, through the efforts of the women who have blessed us with their contributions, will bring this dream to life and find new ways to amaze us all."
Melanie Barnes
Waterloo Greenway Co-Founder