EXPLORE THE KITTY KING POWELL LAWN AT WATERLOO PARK
Located between 12th and 15th Streets along Red River.

Waterloo Park opens in 2020! The 11-acre park will feature a variety of unique spaces to immerse yourself in nature in the heart of downtown. In anticipation of the park opening, we invite you on a series of e-tours of the wonder-filled spaces that await you in Waterloo Park.
First stop is the Kitty King Powell Lawn. This dynamic green space was funded by, and named in memory of, Kitty King Powell who spent much of her life in Austin with her husband and family. Although she later moved to Houston, she had fond memories of her hometown and wanted to ensure Austin kept its natural beauty — green, vibrant, and welcoming to all.
The Backyard of Your Dreams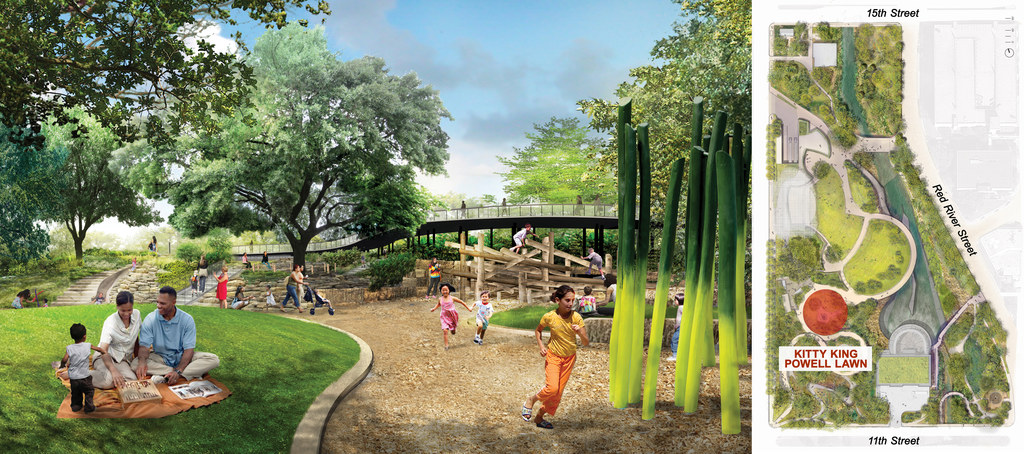 Nestled between the Great Lawn and the Hill Country Garden, the Kitty King Powell Lawn is the backyard of your dreams — a play area where families and friends will come together for adventure, socializing, and dining.
Kids can get active while letting their imaginations run wild exploring the playground's nature-inspired play features. They can scale the timber climbing structure, play hide-and-seek in the maze of mega grass, scramble up the rolling hills, and sail down the hillside stone slide. There will be something for everyone.
Moving Trees from the Capitol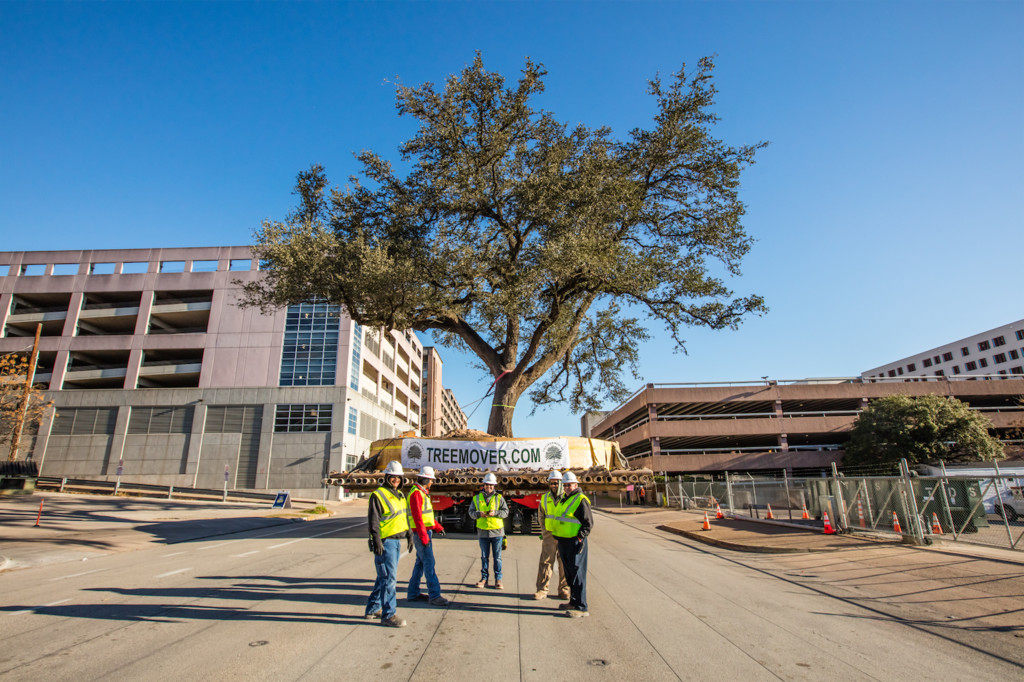 Colossal shade trees surround the lawn, creating spaces to relax and stay cool. One of the largest shade trees is new to Waterloo Park.
Waller Creek Conservancy, in partnership with the City of Austin and the State of Texas, rescued a heritage Live Oak from the capitol complex and replanted it at the southern end of the Kitty King Powell Lawn — the perfect spot to curl up with a good book or enjoy a family picnic.
The Family Pavilion

The Family Pavilion, at the western edge of the Kitty King Powell Lawn, will feature food trucks, restrooms, and a dining plaza under two incredible shade trees. Families can enjoy Austin's creative fare after a fun day on the playground or before a performance at the Moody Amphitheater.
We look forward to exploring the wonder of nature in Kitty King Powell Lawn with you next year. Stay tuned for the next stop on our tour of Waterloo Park!