Join us for a special Earth Month themed Morning Glories!
Texas Book Festival and Black + Vernooy Architecture and Urban Design will lead an exploration of books and hands-on environmental activities inspired by Waterloo Park's natural features.

Participating families will be able to meet the authors and receive a free signed copy of "Nell Plants a Tree" and "Waterloo: A Park for All" while supplies last.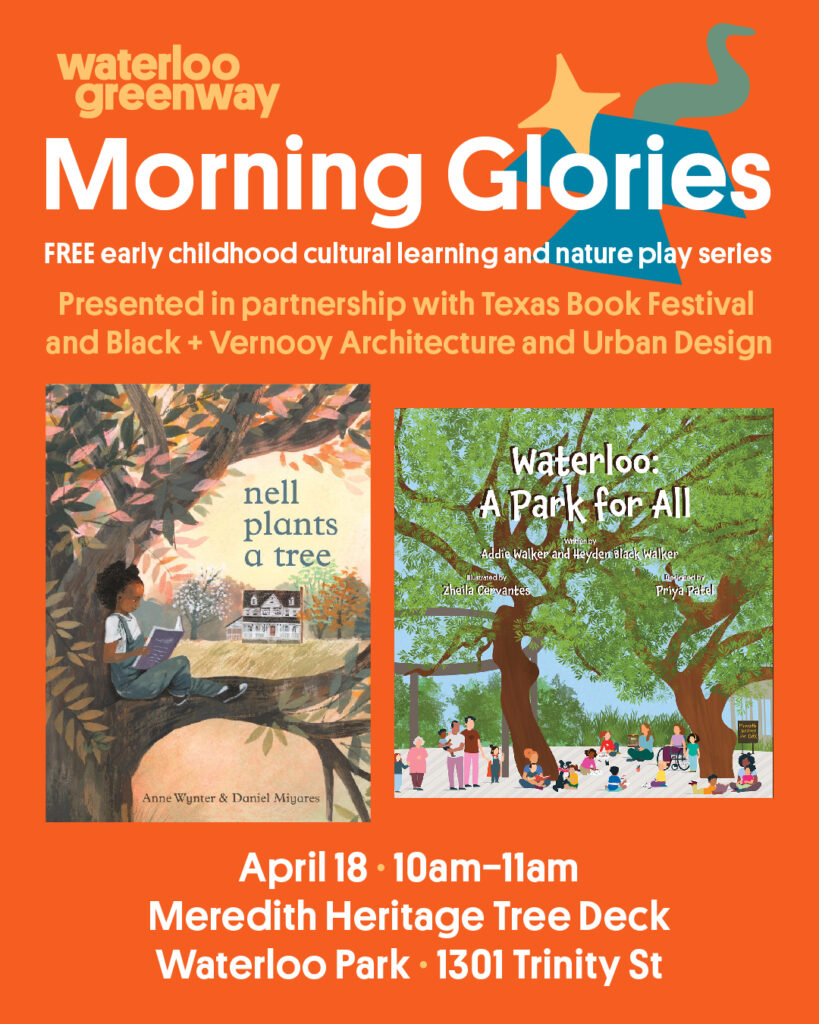 ABOUT NELL PLANTS A TREE
This stunning, poetic picture book shows how one little girl's careful tending of a pecan tree creates the living center of a loving, intergenerational Black family. And just as, with Nell's love and care, her tree grows and thrives—so do generations of her close-knit family. Inspired by the pecan trees of her own childhood, Anne Wynter's lyrical picture book, brought to life with gorgeous illustrations by Daniel Miyares, brims with wonder and love.
ABOUT THE AUTHOR
Anne Wynter is a playwright and freelance copywriter who began her career as a publicist in the book publishing industry. More than a dozen of her short plays have been produced around the country and included in such festivals as 14/48 Austin, the Austin One-Minute Play Festival, and The Lift Off New Play Festival in New York. Anne has a degree in drama from Washington University in St. Louis, she earned a certificate in short story writing from the University of Chicago, and she studied picture book writing at The Writing Barn. Everybody in the Red Brick Building is her debut. Anne currently lives in Austin, Texas with her husband, her two young sons, and her cat. You can visit her online at annewynter.com.
ABOUT WATERLOO: A PARK FOR ALL
"Waterloo: A Park for All" is a children's book created in partnership between local Austin firm Black + Vernooy Architecture and Urban Design and Waterloo Greenway Conservancy. The book tells the history of Austin and the creation of Waterloo Park through the perspective of two centuries-old "witness trees" that still stand in the park today.
ABOUT THE AUTHORS
Heyden Black Walker is Director of Planning at Black + Vernooy. She was born and raised in Austin, where she focuses her planning career on human-centered transportation and design.
Addie Walker works as the Advocacy Program Manager at Black + Vernooy. She has been inspired by her mother Heyden since childhood, and now works with local nonprofits towards an equitable and sustainable future for Austin.

Priya Patel was born and raised in Vadodara, India. She immigrated to Austin to receive her dual masters degrees in city planning and urban design from UT Austin, and now works as an equity- and justice-focused designer for Black + Vernooy.

Zheila Cervantes is a self-taught illustrator who grew up in Cd. Juarez, Mexico. She focuses her work on nature, imagination, female empowerment, and storytelling. Zheila's work can be viewed on her website zhei-zhei.com and her Instagram @zhei.art.